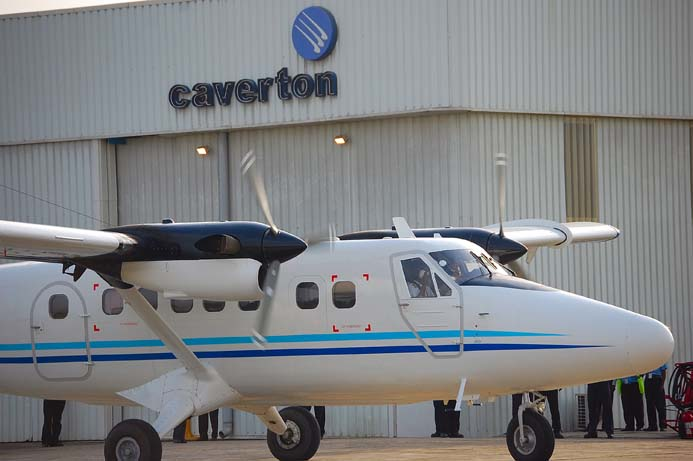 24 May 2014, Lagos – Caverton Offshore Support Group has expressed determination to extend its presence to more high growth African markets as it pursues its goal of being the leading marine and aviation support and logistics provider in sub-Saharan Africa. 
Managing Director/CEO, Mr. Olabode Makanjuola, who stated this at the Facts behind the Listing of the company's shares on the Nigerian Stock Exchange, NSE, said that Caverton is poised to continue its tradition of dividend payment, having paid dividend consistently in the last five years.
The company had listed by introduction 3.35 billion ordinary shares of 50 obo each at N9.50 per share.
Addressing stockbrokers at the event, Makanjuola stated that the company intends to expand to countries like Congo, Mozambique, Angola and Ghana, saying that they meet its desire to expand to markets with attractive regulatory environment, as well as offer attractive competitive landscape and opportunity for leverage of capabilities, assets and cross market relationship.
He said the company will also leverage Nigerian Local Content and Cabotage Laws to attain scale through organic and inorganic means to reinforce leadership position.
Explaining the rationale for capital market listing, Makanjuola said that the company decided to list six years after a private placement as a result of the quantum leap in its operation and the need to employ more capital to meet its growing financial needs.
According to him, the capital market provides a good avenue to diversify the company's capital structure.
He further stated that the company would continue to pursue exclusive technical partnership in order to become the first choice maintenance and training service provider in Nigeria and other African countries.
Also speaking, the Chief Finance Officer, Mr. Samuel Ileoma, said the company recorded turnover leapt from N7 billion in 2010 to N18.6 billion in 2013, an increase of 165 percent within three years, while profit grew from N1.36 billion in December 2012 to N1.88 billion as at December, 2013.
He explained that growth in revenue was driven by major contracts with International Oil Companies, IOCs, such as Shell and Total in 2010 and 2011 respectively.
He stated that 38 percent growth year-on-year in profit after tax as at the year ended December 2013, illustrated the financial potential of the business, adding that growth is further evidence of a resolute business model and the capability to deliver maximum shareholders' returns.
– Vanguard
In this article