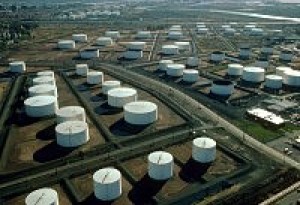 24 May 2014, Lagos – The President, Maritime Workers Union of Nigeria (MWUN), Mr Anthony Nted,  on Saturday urged the Federal Government to relocate tank farms to ensure safety of lives.
Nted, who made the appeal at the National Executive Council (NEC) meeting of the union in Lagos, also said the relocation of the tanks would prevent economic losses.
According to him, the continuous presence of tank  farms in the Lagos port area was responsible for the heavy presence of petrol tankers on major roads leading to the ports.
"We have repeatedly called for the relocation of tank farms from TinCan and Apapa  for both the safety of lives, properties and economic reasons.
"We appeal that all tank farms be relocated from the seaports at Warri, Port Harcourt and Onne and moved far from residential and commercial areas,'' he said.
Nted  said that it was regrettable that petrol tankers had  taken over the Apapa/Oshodi express road and all access roads to the seaports.
He said the gridlock in the area had made movement of people and goods in and out of the seaports and within the Apapa industrial and commercial area impossible.
The problem, he said,  had  compromised the efficiency and service delivery level at  the ports and caused loss of man hours.
On politics, Nted, cautioned politicians against utterances that could mar the peaceful conduct of the 2015 elections.
"We urge  politicians to stop sowing seeds of discord and hatred among Nigerians.
"The politics of winner takes all should be re-engineered to imbibe elements of inclusiveness,''  he said.
He also  appealed to government at all levels to remain focused and improve on policies and projects aimed at improving  the welfare of the people.
The union leader also advised religious leaders to dwell on messages of  love, saying development could only  thrive  in a peaceful atmosphere.
Nted commended President Goodluck Jonathan for organising the National  Conference and advised the delegates to demonstrate patriotism in their deliberations.
– NAN