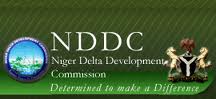 26 May 2014, Calabar – The Niger Delta Development Commission on Monday in Calabar commenced a town-hall meeting on impact assessment of projects and youth empowerment initiatives across the nine Niger Delta states.
The initiator, Mr George Turner, Special Adviser to the Chairman of NDDC Board on Youth Matter, Sports, Women Affairs and Culture, said this was to get feedback from the grass roots.
"It is aimed at collating feedback, especially at the grassroot level on the impact assessment of our projects and youth empowerment initiatives," he said.
According to him, it is wrong for them to sit in Port Harcourt and assume that the commission is doing well or not doing well.
"We want to know how far we have gone in terms of projects. Are we satisfied with empowerment packages initiated by the commission over the years? So we really want to hear from the youths themselves.
"At the end of the tour, we are going to collate the information, analyse them and based on that, we will do a report on the way forward," he said.
He commended the Chairman of the board, Senator Ewa Henshaw, for his youth-friendly disposition, adding that his appointment had rekindled the hope on the youths of the Niger Delta region.
 The special adviser said the 2014 budget of the commission was centred on youth empowerment and wealth creation.
He said it was time the youths of the region understood that they were critical stakeholders in the development of the region.
Speaking, chairman of NDDC board said his focus was purely on youth empowerment, development and wealth creation.
– The Punch
In this article