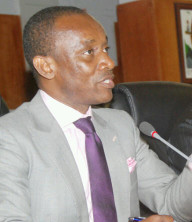 26 May 2014, Abuja – Power consumers in the country will from June 1 this year pay N750 as fixed charge for electricity instead of N1,500 that should have been paid, the Nigerian Electricity Regulatory Commission has said.
According to NERC, the decision to retain the current fixed charge was reached after the last minor review of tariffs.
The Chairman/Chief Executive Officer, NERC, Dr. Sam Amadi, said in Abuja on Saturday that if the review had not been carried out, power consumers would be paying about N1,500 as fixed charge beginning from June 1.
He said, "Many of the customers should be paying by June 1 a fixed charge of about N1,500. Now, the adjustment has resulted in a decrease in such that the fixed charge will not change. If this review was not done, the fixed charge should have been about N1,500 in some places.
"But now, the reduction is that instead of having an increment in fixed charge, the consumers now have a decrease from N1,500 that would have been paid from June 1 to N750 for most places.
"The fact is that based on consumers' concern, NERC has done the minor review in a manner that the consumers will pay less than they would have paid if there was no review. So, the consumer is paying less of the fixed charge and less of the energy charge."
Amadi explained that the positive economic fundamentals in the country had helped in the reduction of electricity tariff.
He noted that the cost of gas, inflation rate and other fundamentals were stable for some time and had led to the downward review of the charge.
The NERC boss said, "This shows that if the macro-economic fundamentals are good as they are, it will get better. And if we have more power coming to the grid and we are able to reduce losses through regulation, we can see that instead of the price spiralling up, we will get a reduction in tariff over time because we will get the savings that will go back to the consumers.
"It is already in the MYTO that every six months, there will be a minor review. The minor review deals with changes that would have happened in the preceding six months in terms of inflation rate, foreign exchange, cost of gas and generation capacity. So, what we do is that on March 31, we drew the line based on data available at that time from official custody like the Central Bank of Nigeria and the National Bureau of Statistics.
"The MYTO model prescribes that if there is a plus or minus five per cent increase or decrease in difference aggregate of this data, then it triggers a review. But if the change is less than plus or minus five per cent, then it does not trigger a review. So, the review that we just finished, the rate is more or less than five per cent aggregate. We have done a petition to the CEOs and we have also approved the change in the review of the prevailing price."
– The Punch
In this article