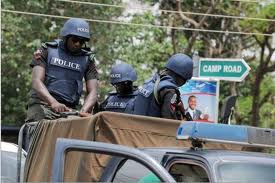 26 May 2014, Lagos – No fewer than seven people have been feared dead after a gun duel between some suspected pipeline vandals and the police in Arepo community, Obafemi Owode Local Government Area, Ogun State on Sunday.
The shootout was said to have started after the vandals attacked the security formation guarding the pipeline area on Saturday evening.
It was learnt that the vandals had stormed the area on Saturday, but their activities attracted the pipeline security task force set up by the Inspector General of Police.
PUNCH Metro gathered that the vandals, on sighting movement from the task force, opened fire on them, which was returned by the policemen.
The exchange, which continued till the early hours of Sunday, was said to have caused a fire. The pipeline was said to have exploded as the exchange continued.
Our correspondent learnt from a resident that at least three of the vandals died, while some policemen might have been killed during the gun battle.
The resident said, "The gun battle started yesterday (Saturday), but the fire may have begun around 3am on Sunday morning. The police and some boys within the creek had a fire exchange and some people died.
"Later this morning (Sunday), there was a pipeline explosion from the area. I am aware that three of the vandals lost their lives, while some policemen are still missing."
A security operative told PUNCH Metro on condition of anonymity that eight policemen were involved in the gun battle, but four were still missing.
"While four of them have returned to base, four others are still missing. We have yet to ascertain their fate," the source said.
When our correspondent visited the area, he observed a group of soldiers and policemen guarding the entrance.
Our correspondent, however, saw a burgeoning fire around the pipeline tunnel, as thick smoke billowed through the sky.
As of 2pm, when our correspondent left the scene, the flames had yet to reduce in intensity.
The spokesperson of the National Emergency Management Agency, South West, Ibrahim Farinloye, said supplies had been shut down to put out the fire.
He said, "The security men are manning that area because it is the flash point from which the vandals usually strike.
"The vandals confronted the security men in a gun battle. The security operatives had to return fire.
"There may be casualties, but because of the terrain, we have not been able to access the place.
"This fire was more intense yesterday when all this started, but it has drastically reduced. It should be off before day break."
Farinloye said some security operatives had been deployed in the area to search for their missing colleagues.
He said the situation was under control and supplies would be commence as soon as the flames put out.
Attempt to speak with the head of the task force, Friday Ibadin, was abortive as his telephone line indicated that it had been switched off.
But the Ogun State Police Command spokesman, Muyiwa Adejobi, said, "Vandals attacked policemen in the Arepo area while on patrol. Some were injured while a few are missing. The vandals also set the place ablaze. So we want to put out the fire. The Commissioner of Police, Ikemefuna Okoye, has visited the place and he ordered a collaborative effort to ensure normalcy in the area."
– The Punch
In this article