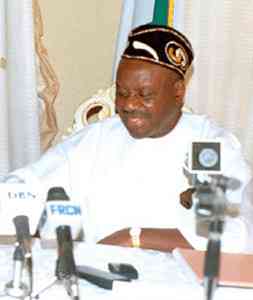 26 May 2014 – OBONG Victor Attah was governor of Akwa Ibom State between 1999 and 2007, when he was chairman of the Nigeria Governors' Forum (NGF) and is currently a member of the Board of Trustees, BoT of the Peoples Democratic Party, PDP. He was a member of the 1994/95 Constitutional Conference and is presently a delegate at the on-going National Conference on the platform of Former Governors Forum. He is the co-chairman, Committee on Devolution of Powers. In this interview, he bared his mind on issues that arose from the conference, including resource control, state police and insecurity in the land among others. Excerpts:
How far has it been at the National Conference?
The president is really anxious that we find solutions to the things that are plaguing Nigeria today. A number of things that are seriously wrong with the country are established and the president was quite concerned that we must find solutions to these matters and recommend what ought to be done so that the country can move forward again.
What new thing do you see in this conference that was absent in past conferences?
A lot has changed. Don't believe for one minute that this is going to be the last of such conferences that we are going to have. It is not by any means and
I don't want to speak particularly about my committee. But I do know that there are certain issues that my committee, particularly the issue of resource control, that my committee considered in great detail and came to some conclusions; I know that that matter will have to be opened again.
When it will be opened again, I don't know. But I know that the matter has to be revisited. In the mean time, as a committee, we tried to put things in place by making it easier for when next we meet to discuss this.
We like to compare ourselves with America, but we cannot really compare ourselves entirely with America because in America you don't have issues of indigenes and non-indigenes. These are the kind of things I am talking about. And it takes a long time to resolve that kind of matter. You will not have a situation like 'this is my father's land and you don't belong here; this oil is coming from me and I am the one to dictate how you should have it or how you should not have it.' If you want to live where the oil resides, go and live there. If you want to live where there is no oil, go and live there but there is not going to be the kind of entrenched interest as we have here.
So we are a different type of country and in recognizing that fact, we have to accept the fact that our circumstances change. There is need for similar conferences to be held, with regard to what has been done or said before.
We should allow ourselves to be guided by agreement we have reached in the past because always, what we are trying to do is to establish the need to want to live together in harmony and in peace and provide circumstances in which the country can grow economically and have social harmony.

What is the position of Former Governors' Forum at the confab?
You cannot expect my forum to have a common position for two main reasons. Firstly, the interests are more region-based and we come from different states belonging to different regions. There will be a diversity of opinion and positions in a number of states.
Since we come from different parts of this country and are in different committees, we really have to look more at what those committees have been able to come out with than what the governors' forum has been able to come out with. If you ask the governors forum to discuss the issue of restructuring today, you would get as many diverse opinions as there are members.
What is your take on true federalism, parliamentary system, state police, state creation and a host of other issues that came up at the committee stage?
Regionalism, I believe, is something that would come on us gradually. The first time the idea of zones was brought into the Nigeria lexicon was in the 1994/1995 constitutional conference. It has taken us this long for a number of us to accept, that perhaps we should indeed recognise those zones and make them federating units.
Others are still resisting and saying the state. It is possible that the state will always win but it is also possible that in future, the zones would be made federating units.
And on the issue of state police, I do not see how we can have a federal system without decentralising the police. I believe strongly that if we have regions, there should be regional police, if we have states, there should be state police. In fact, I believe that if we had had state police, the issue of Boko Haram would not have escalated to this level.
You set a governor up and tell him he is the chief security officer of the state and you don't give him the means by which to secure the place. He has to depend on a commissioner of police that came from somewhere by somebody else who does not understand the circumstances of the place. I sincerely believe that is an essential task of true federal arrangement.
On state creation, the demand by some for more states is borne out of the fact that we made number of states the issue in sharing revenue rather than the fact that you should be able to maintain yourself and pay a certain amount of what you generate in your state to the federal government.
By the time we get to that kind of stage in this country which we must get to subsequently, states would be merging rather than asking to be sub-divided because some of them even till date are not viable.
That is why there is so much envy over the oil. They want the oil to be shared. Now, 87 per cent goes to the centre leaving only 13 per cent as derivation which oil producing areas consider insufficient. These are issues that I know would be looked into again in future.
On some volatile issues that came before Devolution of Power Committee
You just said it was volatile. It was incendiary and capable of scattering the entire conference. So we recognised the enormous responsibility that was put on our shoulders and we took a decision that however long it would take and to the extent that would be possible, we would discuss until we exhaust ourselves and come to a mutual understanding of the position that we know would not cause further disruption in the polity, but rather help to move the country forward.
It was not an easy task. It was a deadly way of negotiating a mine field. It was a mine field and anything could have exploded at any point in time but by God's grace it didn't.
And with the wisdom and integrity of the people, we finally decided that it should be Nigeria first.
On controversies that trailed the derivation debate and retention of 13 per cent derivation
I do not want you to isolate the issue of 13 per cent. Look at it like I said from the issue of destabilizing the polity. At the beginning, some of us from the South said we want total resource control.
We want to go back to where we were, where we will control our resources and pay whatever is prescribed which cannot be more than 20 per cent to the centre.
The constitution says, oil, minerals belong to the Federal Government, we said okay. Even if we subject ourselves to that, but we would like that clause subsequently changed in the constitution of Nigeria. But even if now, we subject ourselves to that, we want derivation therefore to become the issue and we want that derivation to be at 50 per cent.
At committee meetings, some people brought out all kinds of statistics that because they have given 13 per cent today, they must be considered. In fact, some members said it is unfortunate because those places you are quoting don't have the means of production and generation of revenue that we have.
What is your take on the spate of insurgency in the country? Is the government handling it well?
Not being in government, it is difficult to say if government is handling it well or not because if I should say that, I would have to give you instances where I think it is handling it well and instances where I think it is not handling it well and perhaps proffer solutions.
Let me tell you what bothers me and I mean this in all honesty. I read in the papers, unless it is denied, then I can take it that it is true, that some people saw a car parked and it was suspicious; they called the authority, nobody came for two hours until it exploded. That is my worry.
Before now, you heard that even before the Chibok incident the authorities learnt that this could happen and yet no security was put in place. I think these are the areas we have to look into. Is it sabotage? At a time, our president said even his own government and the security force had been infiltrated.
These issues bother me and that is where we have to look and see how we can help because almost in every instance, even down to the Nyanya incident, if there had been rapid response, it might not have happened. If we know that something is happening, and we let it happen and then relax, then something is wrong.
We are now beginning to have foreign intervention, is it not a slap on the Nigerian military or an indication of not being in charge?
No, it is not a slap on the Nigerian military. If we are not sufficiently equipped to fight this battle, we can bring in support from friendly countries that are willing to and I do not see that as an admission of weakness.
It's an admission of sensibility that we want to stop this thing once and for all and you can call for back up, whenever it is necessary.
They are not going to be here forever and their mission is specifically aimed at the Chibok girls. I am not involved in government and so I do not know if they will just focus on Chibok and whether they will stay and provide support after they must have found these girls. Too much time has elapsed and I hate to see what the conditions of those girls are now and the mind, feeling and trauma of the parents. If your child is killed today, you know, you feel sorry, you bury the child; time will help you to forget it. But every day you wake up and say what is happening to my girl child?
On claims from some quarters that the insurgency is designed to make President Goodluck Jonathan jettison the idea of contesting in 2015
I don't get involved in such speculations. I just want the insurgency stopped however they are going to stop it, I want it stopped.
*Henry Umoru-Vanguard
In this article