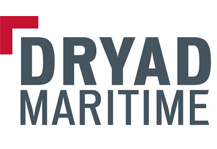 30 May 2014, Sweetcrude, London – Dryad Maritime, the UK's leading maritime intelligence agency have today 29th May unveiled plans for a strategic expansion of their operations into Asia Pacific and the Americas.
The official announcement will be made to the maritime industry at Posidonia 2014 (Stand 1.423) next week, where Dryad will be revealing the future vision, business strategies and broader expansion plans that are to guide the company's growth throughout this year and beyond.
The expansion and re-focusing of the company will see a number of internal moves. The current Director of Intelligence, Ian Millen is to assume the role of Chief Operating Officer from Karen Jacques, who will be relocated to the Pacific in order to take the helm and grow Dryad Maritime across Asia and the Americas.
Graeme Gibbon Brooks, Managing Director Dryad Maritime;
"We are really excited about our expansion plans which we hope will be the start of several more. The initiative underscores our commitment to delivering effective operational and risk mitigation support to our customer base within the Asia and Pacific regions."
The expansion follows steady success for Dryad Maritime, a company that has grown from a small niche Portsmouth-based business to a trusted and respected global provider of maritime intelligence and operations services in just six years. The operation in Singapore will provide additional support for Dryad's growing multinational client base across the Asia Pacific region.
The multi-award winning company will be represented in the new region and led by Karen Jacques, this year's Freight Transport Association Innovation and Sustainability award winner.
Karen Jacques, Director Asia Pacific Region
"It is a very exciting time for Dryad as we continue to develop a leading role within our industry in one of the fastest-growing regions of the world and it demonstrates our commitment to both current and future clients in these areas".
The broader expansion plans will see Dryad Maritime expand their offering through the launch of several new services which will provide support to maritime operators during normal operations, when at risk and during crisis operations.
In this article