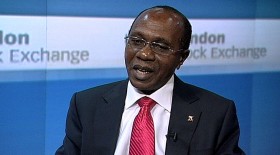 01 June 2014, Lagos – The Nigerian financial industry will enter a new phase this week as both local and international economic communities await the inauguration of the new Central Bank of Nigeria Governor, Mr. Godwin Emefiele, whose tenure as managing director/chief executive of Zenith Bank Plc ended effectively last Friday, reports Festus Akanbi
It is very certain that come Tuesday June 3, former Group Managing Director/Chief Executive Zenith Bank Plc, Mr. Godwin Emefiele, will officially assume duty as the new governor of the Central Bank of Nigeria (CBN). His tenure is expected to commence immediately after the ceremonial handover by the acting governor of the bank, Mrs. Sarah Alade, who has been holding forth since February.
Emefiele's name was forwarded to the Senate for confirmation by President Goodluck Jonathan on February 19 and his appointment came as the climax of a long-drawn controversy that dogged the tenure of his predecessor, Mallam Sanusi Lamido Sanusi, who was suspended from office earlier in the year.
A Big Change
The excitement about Emefiele's ascendancy at the apex bank, according to watchers of his evolving career, essentially stemmed from the anticipated change he has promised to bring about when he eventually mount the saddle on Tuesday. He said he would ensure that the CBN along with relevant stakeholders in finance sector jointly grow the economy through the adoption of a development banking model which would serve as a veritable tool for industrialisation.
For an economy, which had to cope with the tempestuous regime of the immediate past governor, the appointment of a Godwin Emefiele – a brilliant but level headed professional who has demonstrated a deep understanding of monetary and fiscal peculiarities of Nigeria, especially in a politically-charged environment – was bound to give members of the economic community quite a lot to look forward to.
As at today, there is no doubt that apart from the activities of the Boko Haram insurgents that have become a dark side of Nigeria's contemporary history, preparations for the next year's elections are another issue that have continued to get prominence in the nation's dailies.
However, as the Chief Executive of Financial Derivatives Company, an investment firm based in Lagos, Bismarck Rewane puts it, the new CBN Governor Godwin Emefiele's term, starting June 3, is perhaps the only big change until Nigerians go to the polls.
After the ceremonial handover ceremony, where the acting governor, Mrs. Sarah Alade, will introduce other hierarchies of the apex bank to the new helmsman, Emefiele will obviously be under pressure to hit the ground running. Those close to the new CBN governor said he has been doing his homework in order to meet this expectation. Meetings have been held with strategic stakeholders and it won't be far from the truth to say the new CBN Governor must have been contending with lobbies from financial professionals angling to be part of his administration. Sources said the new governor has narrowed his search for professional advisers to core competence, not minding where such true professionals come from.
Priorities
Reiterating his strong determination to bring a change, Emefiele, who told THISDAY at the weekend that his immediate priorities is to take his attention beyond financial system stability to cover macroeconomic stability using the development banking model.
Responding to an enquiry over what his major focus would be, the new CBN governor said, " We will be focusing on achieving macroeconomic stability by holding exchange rate strong using various monetary policy tools as well as keep interest rate low/affordable for businesses that require finance. We will also be focusing on development banking to support the growth of the real sectors of the economy particularly agriculture and the manufacturing sectors."
Emefiele, who earlier spoke through an aide, frowned at the existing trend which, he said does not effectively carry the grassroots along, saying his focus will be how to open up opportunities to everybody including those at the bottom of the ladder.
The questions to be asked, according to him, also include how to put money in people hands so that they can a better life. His preoccupation, he said, will also include how to accommodate the economically excluded into the fold of the financial system.
As expected, a number of institutional and independent analysts have begun a preview of the tenure of the new apex bank chief, with a near consensus on the ability of the incoming administration to stabilise the system.
Firm Monetary Stance
Renaissance Capital's Director and Sub-Saharan African Economist, Yvonne Mhango, said a firm monetary stance by the new leadership of the CBN is non-negotiable in order to improve on the current positive tempo. Responding to THISDAY enquiries last week, Mhango said: "We expect incoming Governor Emefiele to sustain a firm monetary stance. Given our projection of a continued decline in foreign reserves until the elections, which is negative for the naira, and Emefiele's aversion to devaluation, we think the MPC may be compelled to further tighten monetary policy in 2014."
However, looking beyond the financial sector, former Chairman of the Nigerian Economic Summit Group, Mazi Sam Ohuabunwa, called for a chain of steps, which in his opinion would give Nigerians the desired rest of mind on financial and economic matters.
He noted:  "Inflation is down at about eight per cent, so he needs to also adjust the MPR to bring down interest rates and may also ease the strain on the reserves by allowing the naira to float a little bit. Secondly, he needs to see how he can support revenue recovery and growth for the federation. He must bring some influence in helping to seal any revenue leaks in oil proceeds. Thirdly, he needs to depoliticise the CBN by wearing the toga of a professional central banker."
Not Under Serious Pressure
Ohuabunwa believes there is no cause for alarm, saying the new CBN governor is not under any serious pressure. "There is really no crisis in the macroeconomy or the monetary regime. The banks are fairly stable, so he does not need to do anything dramatic. I believe his greatest impact will come from helping to bring down bank interest rates, stimulate bank lending to the real sector- agric, manufacturing and mining and keeping our reserves healthy," he said.
According to the industrialist, "The decisions of the last MPC was conservative, not willing to take any risk. Perhaps it enables him to be able to make first impressions. And I will think, he can make some changes especially in the MPR. I know that there is the fear of money growth by election spending but that fear is too premature. We need to stimulate production and consumption and inflation will be arrested by market forces."
Not ruling out an internal restructuring, Ohuabunwa said Nigerians should expect Emefiele to tinker with the current arrangement in the apex bank.
"In normal circumstances, every new CEO will do some restructuring, and I believe that there is much reason to anticipate some now. If what we hear is true, then he would have to rein in the extraordinary expansion in manning and expenditure associated with the departing regime. Also he may have to look at the Federal Character of the manning table," he said.
Another commentator believes Emefiele is coming into the office of the CBN governor with the coolness of a former lecturer and the experience and calmness of being at the helms of one Nigeria's biggest banks for some years.
He believes that "Emefiele has steered one of Nigeria's most successful banks. He understands the Nigerian banking industry and will definitely have some ideas on how to calm the raging storms without sinking the boat and its passengers. The challenge will be in the economic front where his banking experience will be of little help."
His Priorities
According to him, "The extent of his understanding of the CBN's balance sheet and how to leverage it to spur employment and growth in the economy will determine his success as a central banker. There are land mines to deal with. The naira is threatened by dwindling external reserves. The Asset Management Corporation of Nigeria (AMCON) remains a time-bomb. There are unresolved issues around the banks that were taken over by his predecessor.
"The queries on the CBN 2011/2012 accounts remain unresolved and there is the issue of almost a trillion naira in CBN intervention funds that seem to be largely underperforming and unaccounted for. He is also taking over a CBN with a bloated balance sheet and work force. Emefiele will have to deal with all these issues amidst increasing insecurity that is threatening economic growth.
"Emefiele will be hoping that his over 26 years' experience in banking and a B.Sc and an MBA in Finance both from the University of Nigeria Nsukka will come in handy in tackling the challenges ahead."
Another international financial analyst who is certain about Emefiele's potential to bring a significant change is Standard & Poor's Senior Analyst for Sub-Saharan Africa Financial Services, Matthew Pirnie. He sees Emefiele as a steady individual, who is always cautious, saying Nigerians should expect slow deliberate decisions from him.
"The new CBN governor will be taking the helms at a period when Nigerian lenders, while having relatively stronger balance sheets after the 2009 banking crisis, are contending with reduced profitability on the back of higher reserve requirements, lower fees and increased competition.
"Nigerian stocks have dropped 4.3 per cent year-to-date (May 23) as the heavyweight banking sector sold off on concerns over the impact of increased regulations on profitability. Lenders are also increasingly getting exposed to dollar liabilities (Eurobonds) to match expected dollar-denominated loans to the power and oil and gas sectors, leaving them exposed to currency risk in the event of a naira devaluation scenario," said Pirnie.
Emefiele said at his Senate confirmation hearing that devaluation of the naira would be "devastating" for the economy, although the level of Nigerian dollar reserves, down -16.6 per cent year-to-date (May 22) to $37.3 billion, may provide a better indication of the CBN's ability to defend the currency.
Banks don't need to get over-leveraged to drive profitability as they can work on cost elements to increase returns, according to Pirnie.
Another analyst who is positive about Emefiele's tenure is Head, Research and Intelligence, BGL Plc, Mr. Olufemi Ademola.
He argued that the state of the Nigerian economy, the finance sector and the money market has not changed significantly from when Emefiele was confirmed by the Senate. Ademola recalled that "at that time, he promised to defend the naira and to follow a developmental economics approach to monetary policy in support of job creation.
"Although to a lower extent, exchange rate volatility is still present, the systemic liquidity in the banking system appears to be high still (judging by the low interbank rates) and inflation, although trending a little higher in recent months, is within the benchmark target for the year."
Pre-emptive Strike against Inflation
The BGL analyst said: "In terms of policy approach, it will appear that the most important issue now is how to check the surging inflation, which is further threatened by the likely increase in liquidity due to electioneering. Since this electioneering and the potentially high liquidity it brings with it could also have a significant effect on exchange rate volatility, the CBN governor would have to start work on how to curb the effect on these two which may require that he continues with the tight monetary policy in the short term.
"Monetary policy is not only felt by actual impact but also by perception/expectation. Based on his comments on his approach to monetary policy, the markets may start to react immediately he assumes office on June 1. However, we may not see any serious physical impact until his first MPC meeting in July."
Just like Ohuabunwa, Ademola believed the outcome of the last MPC meeting was intended to smoothen the takeover of Emefiele.
He said: "It appears that the decisions at the last MPC is in reality to conform to the expected policy path to be followed by Mr. Emefiele. At the last meeting, based on the indicators of high system liquidity in the banking sector, volatile exchange rate, little accretion to the external reserves and the rising inflation, the committee had justifications to further tighten the policy either by increasing the policy rate or increasing the CRR again but they did not follow this direction. Since Emefiele is interested in a growth supporting and employment generation interest rate regime, higher interest rate would not be in line with his vision. The MPC might have therefore taken a decision that will be easy for the incoming regime to build on."
And like other commentators, Ademola believed an internal restructuring of the CBN should not be ruled out.
According to him, "Even if there were no controversies about the last regime, it is expected that any new leader at the CBN would restructure to fit his ideals and approach to work. It may not be something significant but a few role swaps should be expected."
Fear of Loan Defaults
Some analysts believe coping with the anticipated defaults in power sector-related loans will be part of the issues which the new CBN governor will have to cope with at the beginning of his tenure.
Writing in an online publication, Institutional Investor, Mat Mossman and Alex Gordy, said, "Sanusi's successor, Emefiele — formerly CEO of Zenith Bank, Nigeria's No. 2 bank by assets — could find his leadership tested by a new round of loan defaults widely expected in Lagos. Last year Nigeria privatised nearly all state electricity generation and distribution companies in a bid to stimulate investment. Of the $2.5 billion spent by the buyers, $2 billion came from bank loans. Power plants can't get sufficient natural gas to meet Nigeria's energy demands, and the national grid needs an overhaul. Some new owners won't be able to sell enough electricity to meet loan obligations." The report titled: 'Nigeria and its new Central Bank Head Enter Uncertain Territory' quoted Adebayo Adebowale, credit risk officer at United Bank for Africa Plc as saying that "The central bank will have no choice but to be flexible with the banks and allow them some forbearance."
The report added: "A falling currency could further complicate matters. Defending the naira slashed Nigeria's foreign exchange reserves almost 23 per cent in the 12 months ended mid-May, from $48.5 billion to $37.5 billion. The country has a sovereign wealth fund, but it managed just $1 billion as of last month. "Nigeria will ultimately remain vulnerable to oil boom and bust cycles in the long-run," according to a May research note by analyst Rele Adesina of Stanbic IBTC, the Nigerian bank owned by South Africa's Standard Bank.
Emefiele has said devaluing the currency would be disastrous. He may face pressure to raise interest rates, a move that Finance Minister Okonjo-Iweala has called for. "Godwin's instinct will be not to rock the boat," Financial Derivatives' Rewane says. "I expect him to side with the politicians if the economy comes under pressure."
– This Day