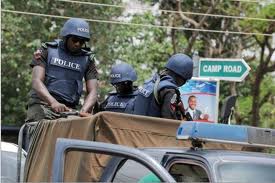 02 June 2014, Akure – The Police in Ondo State, weekend, said six suspected killers of some policemen during the vandalisation of Nigerian National Petroleum Corporation, NNPC, pipelines in Arepo/Abule Oba area of Ogun State, have been arrested.
It would be recalled that about 150 pipeline vandals in 14 boats engaged the team of policemen attached to the Inspector-General of Police Special Task Force on Anti Pipeline Vandalism Unit in a shoot-out in Arepo/Abule Oba area.
Four policemen and a commercial boat paddler, who was conveying the policemen, were said to have escaped during the resultant explosion that led to the inferno.
The survivors were identified as Corporal Abu Danmudi, Corporal Usman John, Corporal Rahimi Morufu and Corporal Abdullahi Sabo and Ibrahim Oguntade (canoe paddler).
The police survivors of the attack told Vanguard that they were ambushed by the armed vandals in the creeks, adding that during the shoot-out, their boats capsized.
Those arrested included Felix Yayu (40), Austin Ebiwei (35), Tamara Dehigbofa (30); Owei Alimili (30), Ijojai Legbei (29) and Yakubu Ebiwei, (40).
Speaking with newsmen in Akure, the Police spokesman, Mr Wole Ogodo, said the suspected killers, after gunning down nine policemen fled with their rifles.
Ogodo said they were picked up at their hideouts in Ajapa and Mile Two Zion in Eseodo, Ondo State by a team of security operatives.
He said N600,000, suspected to be proceeds of bunkering, was recovered from the suspects.
Vanguard gathered that the guns carted away are with one of their members yet to be apprehended as the police have vowed to fish out the fleeing cop killers and bunkerers.
Our boat capsized during shoot-out —Survivors
According to Corporal Sabo, "at 9 a.m., on May 25, 2014, we heard gun shots from the camp at Elepete, where two of our men were stationed to guard. We immediately mobilised and got a paddler to take us to the spot. But we never knew that there were many of them in the bush. They opened fire on us . We responded and in the process, our boats capsized. I was lucky to have swum to safety amidst the raging fire."
On his part, Corporal Rahimi Morufu, who described the scenario as a war zone, said they were outnumbered.
According to him, "we did not know they were many. Our intention was to save our colleagues on guard. But immediately the illegal bunkerers sighted us, they started shooting sporadically. They were heavily armed. I escaped by divine intervention because, as you know, the area is very swampy."
The commercial canoe paddler, Oguntade, who sustained bullet wounds, said: "The policemen approached some of us to take them to the scene when they heard the gunshots. I almost passed out immediately I sighted the vandals. They were dressed in military camouflage and were chanting war songs. It was like a war zone.
"I can't tell at what point I jumped into the swampy water. But I was lucky because I have experience in swimming inside swampy water. It was after I swam to safety that I discovered that some policemen were missing. It is possible that they killed those policemen and went away with their guns."
– Vanguard
In this article