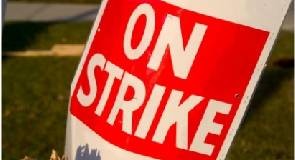 03 June 2014, Takoradi, Ghana – Workers of the Africa Oilfield Services Limited, a Nigerian owned oil services provider in Takoradi on Friday laid down their tools to demand an upward adjustment of their salaries.
They accused management of attempting to swindle them by being dodgy anytime the local union leadership makes an effort to arrange a discussion. According to them, their basic salary is below the agreed GH¢250. On Friday, the workers were seen singing and chanting war songs at the company's premises in Takoradi.
Speaking to Citi News, a member of the local Union, Ransford Acquah said the workers Union Executives have tried to use all the necessary means to engage the management of the company but to no avail. "What brought about today's demonstration is the delay tactics employed by our managers. They have been postponing deliberations for far too long, more than a year.
"We were demanding an upward adjustment from GH¢250 to GH¢400, but when we realized the GH¢400 has not been given, instead reduced the original GH¢250, and we think it's unfair".
The Western and Central Region Officer for the General Transport Petroleum and Chemical Workers Union of the Ghana Trades Union Congress, Richard Hanson, added in an interview with Citi News that management of the company has maintained an entrenched position and is unwilling to negotiate with the workers.
According to him, a particular management member who plays an active role in negotiations declared a 'deadlock' in the process and is not ready for further discussions.
"I met him yesterday and his mood and actions did not give room for further deliberations even when he invited me in. "According to him, the negotiations has stalled but I insisted it does not take one party at a negotiation table to declare a deadlock," Hanson explained.
He also revealed that he is in full support of the local union members in their demonstration so long as management is not ready for fruitful negotiations.
*Citifmonline.com