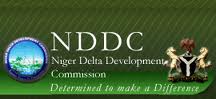 09 June 2014, Port Harcourt – Youths in Niger Delta have issued a 48-hour ultimatum to oil and gas companies to remit three per cent of their annual budget as statutory allocation to the Niger Delta Development Commission or be ready to leave the region.
The youth, under the aegis of the Niger Delta Youths Stakeholders' Forum, observed that oil and gas companies in the region had deliberately been evading the payment of three per cent of their annual revenue to the NDDC as stipulated in Section 14 of the NDDC Act of 2000.
Speaking with newsmen in Port Harcourt on Monday, the National Coordinator of the forum, Mr. Edisemi Yiki, cautioned that the youth of the region would carry out a sustained protest if the oil and gas firms failed to remit the backlog of funds that should have accrued to the NDDC.
Explaining that any defaulting oil firm would have itself to blame after the expiration of the ultimatum, Yoki added that it had put measures in place to mobilise thousands of youths to embark on sustained protests against such companies.
The group had last week embarked on a peaceful protest in Port Harcourt over an alleged refusal of the Nigeria Liquefied Natural Gas to remit three per cent of its annual budget to the Niger Delta Development Commission.
Yiki lamented that the affected oil firms were working towards keeping the Niger Delta region on perpetual poverty while exploiting its oil and gas.
He said, "This they have done through criminal failure to comply with the provisions of the Niger Delta Development Commission Act, 2000. By their action, they are frustrating NDDC to deliver on its mandate aimed at addressing the developmental challenges facing the region.
"We have observed that since the inception of the commission in 2001 to date, many oil and gas producing and processing companies have refused to comply with the funding provisions of the Act as it relates to them.
"The implication of this flagrant violation of the law of our land is that NDDC's capacity to deliver on its mandate is weakened by the day. If not checked, NDDC will, in few years to come, become insolvent while the Niger Delta will have its landscape littered with so many abandoned projects."
– The Punch
In this article