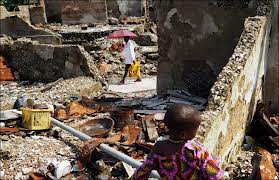 13 June 2014, Asaba — Host communities and Platform Petroleum Companies Limited (PPCL) have signed a Memorandum of Understanding (MoU) during the commissioning of the company's build legacy projects for host communities in their areas of operation.
PPCL is the operators of Egboma/llogili Marginal Oil Field. Newcross Petroleum Limited was also represented.
Emmanuel Konyebagu, Managing Director and Chief Executive Officer, PPCL, said the commissioning exercise was a fulfilment of the corporate social responsibilities of the company towards their host communities as enshrined in previous MoU entered into by the host communities and the company.
While giving brief history of the journey from the humble beginning of the company to the enviable position it occupies today, he pointed out that aside tangible provisions like town halls being commissioned in the four host communities, Okpala Uku Palaces and maternity quarters at Adonishaka Community, the company had in the years under review undertaken intangible projects like scholarship awards and right of way communities, skill acquisition programmes and lots more.
Corroborating, Gdwin Alumona, Head, Safety and Environment and Community Affairs Manager, during the occasion, implored the representatives of the host communities and guests to sustain the existing cordial relationship between them, as only a peaceful atmosphere, devoid of rancour, was needed to keep the relationship going.
Chief A Nwachukwu, speaking on behalf of Umutu Community, thanked PPCL and Newcross Petroleum Limited for completing the town hall started by them while calling on them to furnish the town hall and do some adjustments I the palace of the Okpala Uku solely sponsored by PPPCL.
At Umueziogoli and Akoku Uno, Chiefs Abel Elimuya and Felix Enenya, Chairman Oil and Gas Management Committee, Akoku Community in their separate addresses promised to do anything within their reach to assist the company to achieve a hitch free operations and growth.
– Daily Independent
In this article