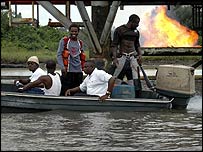 Mkpoikana Udoma 16 June 2014, Port Harcourt – Youths in Kula community, Akaku Toru Local Government Area of Rivers State, are bemoaning what they describe as the continued marginalisation of the community despite its oil and gas resources.
The youths, under the aegis of Kula Youth Organisation, KYO, are particularly irked by the absence of development in the community as well as representation of the entire Oceania communities in scheme of things in the state.
The president of Kula Youth Organisation, Mr. Rowlings Gibson, disclosed this in a statement made available to SweetcrudeReports in Port Harcourt. Gibson, in the statement, lamented the under-development of the oceanic community despite its oil and gas resources and its contribution to the economy of both Rivers State and the nation.
Urging the Rivers State governor, Mr. Chibuike Ameachi, to consider a commissioner slot for the Oceanic community, he said this was necessary to enable the people have a sense of belonging in the present administration.
He also called on the lawmaker representing the oceanic area at the Rivers State House of Assembly to develop a frame work that will help ameliorate the suffering of the people of the Oceania communities.
Kula is reportedly host to over 200 oil wells, producing more than 150,000 barrels of crude oil and 5,000,000 cubic feet of gas per day.
Bemoaning the predicament of his people to SweetCrudeReports in Port Harcourt recently, Chief Anabs Sara-Igbe, a Niger Delta activist, advised Kula people to work together towards attaining prime positions in the country.
"Kula people should come together and look at themselves as a disadvantaged people that come together to fight for their development and co-ordinate ourselves in such a manner that our resources will be beneficial to us," he said.
In this article