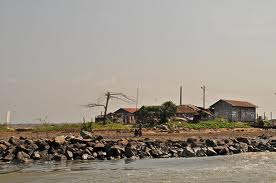 16 June 2014, Warri – The Warri Ijaw Peace Monitoring Group, WIPMG, an Ijaw assembly in Delta State, yesterday, warned the people of  Ugborodo, an Itsekiri community in Warri South-West Local Government Area of the state,  not to cause another crisis in Warri with their allegedly unproven claims to the ownership of Warri lands.
Meanwhile, a joint team of the Nigerian Navy, Airforce and Police stormed Ugborodo community, weekend, to recover all arms employed in the crisis which engulfed the community in January before the Federal Government-brokered peace last month.
The disarmament team which spent the whole of Saturday searching all houses and surroundings in Mandagho, Ajudaibo, Ogidigben and Aruton (Ode-Ugborodo) for illegal arms, however, discovered no weapon, but the organisers stressed that the result does not detract from the significance of the exercise.
The Commander, Nigerian Navy Ship, NNS Delta, Navy Captain Musa Gemu, who led the operation, had before combing the communities, told settlers that, "You are aware that the Federal Government, through the Navy, Police, Directorate of State Services, DSS, and the Delta State Government met with your leaders and resolved the crisis which has involved the use of weapons over the proposed Gas City Development in your community."
Meanwhile, WIPG chairman, Chief Patrick Bigha, in a statement, said: "We write to warn our Itsekiri neighbours of Ugborodo to be careful with their statements in the media so as not to take us back to the dark days in Warri.
"They should remember that an ill wind does no one any good. The Itsekiris should stop the unsubstantiated claim to the ownership of Warri lands.
"It is true that out of the 2,800 hectares of land earmarked for the Export Processing Zone, EPZ, project, the Ijaws of Gbaramatu and Ogulagha have 2,500 hectares. But for the influence of the state governor, Dr. Emmanuel Uduaghan on the project, it wouldn't have started from Ogidigben, which made them to name the project after Ogidigben."
– Vanguard
In this article