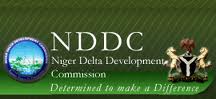 18 June 2014, Abuja – The Niger Delta Development Commission (NDDC) has blamed the delays in the execution of its projects on funding.
The commission stated that the funding of the commission had not been in line with the  Act establishing the interventionist agency.
The Managing Director of NDDC, Mr. Bassey Dan-Abia, made the disclosure when the board and management of the commission defended commission N322.6 billion 2014 budget before the Senate Committee on NDDC in Abuja.
According to astatement issued yesterday in Port Harcourt by the Head, Corporate Affairs of the commission, Mr. Ibitoye Abosede, Dan-Abia said funding challenges had been responsible for the delay in the completion of over 4,000 ongoing projects being executed by the commission in the Niger Delta region.
Dan-Abia noted that some of the budget assumptions made by the NDDC in preparing the 2014 estimates included the expectation that "the federal government would make its contributions in line with the NDDC Act 2000 in view of the massive developmental projects and initiatives it embarked upon."
Other budget assumptions, he said, were that the oil companies' contributions would increase based on full compliance with the provisions of the act and that hitherto non-contributing oil and gas companies, such as the Nigerian Liquefied Natural Gas (NLNG), would commence contribution.
According to him, the NDDC was also expecting payment from the ecological fund, including the arrears owed by the federal government to increase its capacity to fund projects, adding that only performing projects were allocated funds in the 2014 budget.
The NDDC boss said the major thrust of the budget, tagged Budget of Recovery and Restoration, was on human capital development, employment generation and partnerships, in line with President Goodluck Jonathan's development objectives.
He said: "This budget proposal is a product of participatory budget process carried out with key stakeholders within and outside the region with a view to synchronising the annual plan of the commission with the transformation agenda of the federal government.
"The 2014 budget is set to address the goals of the consolidation phase of the Master Plan (Niger Delta Regional Development Master Plan), which is in its 7th year, by complementing previous budgets' objectives. Therefore, the thrust of the 2014 budget will be to consolidate the commission's efforts in employment generation, wealth creation and poverty alleviation."
Dan Abia listed some of the achievements of the NDDC in the last budget year in the areas of job creation, infrastructure development and human capital development.
He said the commission empowered 500 youths through the skills acquisition programme and equally empowered 500 women who were trained as traditional birth attendants.
In the area of infrastructure, he said about 550 kilometres of asphalted roads were completed in various parts of the region, while four new 500-bed hostel complexes were handed over to four universities in the Niger Delta.
In agriculture, he said: "We trained over 2,000 young men and women across the region in agricultural methods and provided them with farming starter kits for fishery, snail keeping, cassava, rice and animal rearing."
– This Day
In this article