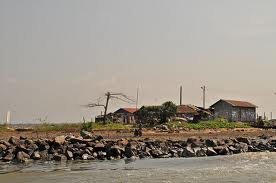 19 June 2014, Lagos – Fear has gripped Koluama people in Southern Ijaw Local Government Area of Bayelsa as a result of Atlantic Ocean surge that is threatening to swallow the communities.
It was learnt that the tidal current of the sea rose, overflowed its banks and emptied into the Koluama River.
Already, residents of the communities located along the banks of Koluama River were reportedly exposed to the direct attack of waves and tidal currents from the sea.
On Thursday traditional rulers of the communities, struck by fear, rushed to Yenagoa, the state capital, to raise the alarm over the threats by the sea to wash away the communities.
The traditional rulers of Koluama clan, King S.E. Edi-Mangi; Koluama 1 community, JTC Leghemo and Koluama ll community, N.E. Ogboinbiri-Mienye, took turns to express their fears on the development.
They traced their woes to the activities of oil companies operating in the area particularly the Koluama-Chevron gas explosion and fire outbreak that occurred in the area on January 16, 2012.
They complained that the explosion which emanated from the gas drilling rig, K.S. Endevour, owned by Chevron Nigeria Limited caused earth tremors and vibrations in the communities.
"Many houses in the communities suffered cracks in their walls and foundations", they said.
The monarchs, who were accompanied to Yenagoa by youths from the communities, recalled that they had forewarned that if remedial measures were not taken on time, their communities would sink soon.
They demanded that the Southern Ijaw Local Government Area, the state and federal governments should quickly send a team of environmental experts to the affected areas to assess the situation and take urgent action.
They further asked the Federal Government to commence environmental study of the impacted areas.
They also urged the government to provide shoreline protection of the communities beginning from the Digetoru River to the Sangana River.
They demanded relief materials and appealed to the oil companies operating in the area to come to their assistance.
– The Punch
In this article