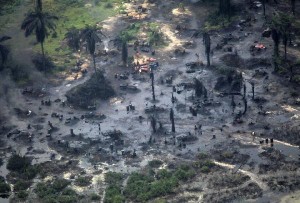 01 July 2014, Uyo – The People of Ibeno community in Akwa Ibom State have decried Saturday's crude oil spill in their community from facilities operated by ExxonMobil  Producing Nigeria, MPN, Unlimited, noting that spills from the company's facilities had been persistent, while nothing was done to clean them up.
Lamenting the recent oil spill, the community called on ExxonMobill to embark on a thorough clean-up exercise. The incident was said to have occurred at 10 p.m., on Saturday.
The community which conducted newsmen round the spill site, yesterday, said that the spill had spread to Inua Eyet Ikot and Esuk Ikim Ekeme, and Nkpang communities.
Speaking at the spill site, Chief Okon Akpanubong, the Village Head of Iwuo Okpom,   described the situation as horrible, lamenting that something needed to be done urgently because the people living  around ExxonMobil facilities are not safe.
He said: "On Saturday night, another severe oil spill occurred from ExxonMobil storage facility, after a rainstorm. It has even spread to the ocean and has polluted the coastal communities. I am calling on the management of ExxonMobil to urgently clean up the oil spill.
"There have been series of oil spills since the company started operation here and unfortunately ExxonMobil has done nothing to ensure the safety of the host community. I am disturbed over the situation because the lives of our people are in danger. Our crops, fishes and source of drinking water have been either destroyed or polluted.
"We regret that things turned out this way when we were actually thinking that we are going to be blessed with the oil God endowed us with, but you can see that the reverse is the case. Even the palliative measure they promised, have not been fulfilled, in terms of paying compensation. We call on the Federal Government and other relevant authorities to come to the aid of our communities. The lives of Ibeno people are in danger because of recurrent oil spillage in the area."
The community leader who disclosed that ExxonMobil management had visited the site of the fresh spill and promised to get back to the people, said Ibeno community  had already lost confidence in the company addressing their plight.
– Vanguard
In this article