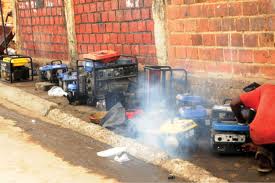 07 July 2014, Lagos – Four persons -Emem David (nee Emem Asuquo), her two children and a girlfriend to a neighbour, identified as Raphael, have died by allegedly inhaling generator fumes, which was placed by the side of the door to their room in Akwa Ibom State.
David was said to have relocated the generator to the door side on Thursday night to prevent it from being drenched in the rain.
The incident happened at No. 65, Uyo Road, Nung Udoe, Ibesikpo/Asutan Local Government Area, Akwa Ibom State.
The landlord, Mr. Ekere Benson, who spoke with our correspondent at Nung Udoe on Monday, said David left the generator near the doorpost, and mistakenly placed the exhaust facing the room.
He stated that on Friday morning, the generator was still running  and nobody in the compound had any inkling of what had happened to the family.
He added that it was when he returned from work on Friday evening that he learnt that some of his tenants had died of generator smoke.
Benson said, "I provided a place for every tenant in the house to place their generators. I also provided corrugated iron sheet for them to cover their generators in case there was rainfall.
"It was on Friday morning when I awoke, I saw the generator beside Emem's door, still steaming. I did not know that she had placed the exhaust pipe facing her room. I left for work.
"When I came back from work, I was told that some people died in my compound, which included a female tenant, her two children and a young lady who came to visit her boyfriend (Raphael) whom we learnt travelled to Port Harcourt before the incident.
"The owner of the room and husband to Emem, Mr. David was not around at the time of the incident. He is a truck driver with KUBOTEX Nigeria Limited. The moment I heard of the incident, I called the police, who took them to Homicide Section and ran some tests to confirm what actually killed them."
But the late David's family did not believe that their daughter and her two children died because they inhaled generator fumes.
One of the siblings of the deceased, Mr. Sunday Asuquo, who spoke on behalf of the family at Nung Udoe, faulted the argument of the co-tenants that their sister died of generator smoke.
He stated that from what they saw, David, her two children and the neighbour's girlfriend died of food poisoning.
Asuquo added that their food plates had shown that the victims were yet to finish eating when they died.
The family, who is from Mbak Etoi in Uyo, Uyo LGA, said the late David's mother in-law had repeatedly threatened that she would not marry her son.
– The Punch
In this article