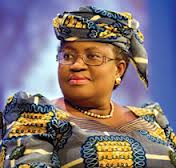 08 July 2014, Abuja – The Minister of Finance, Dr. Ngozi Okonjo-Iweala and two others have been sued by the #Kano State Government over their alleged refusal to provide it with information relating to deductions from its allocations and those of its local governments for the Petroleum Support Fund.

Also listed in the case brought before the Federal High Court, Abuja, are the finance ministry and the Petroleum Product Pricing Regulatory Agency (PPPRA).

In a supporting affidavit to its ex-parte application, the applicant according to The Nation stated that its officials had written to the PPPRA on April 11 for information on the issue but were ignored by the respondents.

This, it says, informed its filing of this application brought under the Freedom of Information Act, 2011.

The state further stated that respondents have been making deductions in this regard from the monies accruable to it and its local Governments, but have never disclosed the amount deducted since 2005 to date.
In this article