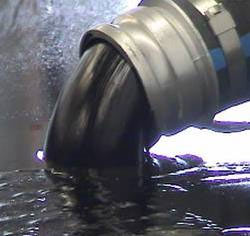 Yemie Adeoye 09 July 2014, Sweetcrude, Lagos – The Federal Government appears determined to boost indigenous participation in crude oil marketing as shown by the obvious policy shift in a recent award of contracts in that regard to indigenous Nigeria companies.
It was such that 21 indigenous companies were awarded lifting rights against eight international oil traders, two foreign refineries, two subsidiaries of the Nigerian National Petroleum Corporation, NNPC, and three countries, represented by their state-owned national oil companies.
The upstream sector of the Nigerian oil and gas industry has also witnessed a series of activities in the last couple of years which, in effect, is reducing the dominance by foreign oil companies in the area.
All these are attributed to the enforcement of the federal government's local content policy as well as the preparedness of indigenous oil players to commence a gradual takeover of upstream activities in the sector.
Speaking on the development, a senior official of the Ministry of Petroleum Resources, who spoke on condition anonymity, stated that the 21 indigenous companies favoured in the recent award of lifting rights for the nation's crude, account for 630,000 barrels per day of crude oil liftings during the one-year period, representing 57 per cent of the 1,179,000 barrels per day awarded to the 38 beneficiaries.
A breakdown of the allocations showed that each of the 21 indigenous traders got an allocation of 30,000 barrels per day.
These companies include A-Z Petroleum Products Limited, Hyde Energy Nigeria Limited, DK Global Energy Resources Limited, Southfield Petroleum Limited (SPL), Aiteo Energy Resources, Avidor Oil and Gas Company Limited, Azenith Energy Resource Limited, Barbados Oil and Gas Services Limited, Century Energy Services Limited and Crudex International Limited.
Other beneficiaries include Eterna Plc, Bono Energy, Taleveras Limited, Mezcor SA, Sahara Energy Resources Limited, Tridax Energy SA and Tempo Energy SA; and Global Energy Acquisitions MOG Ltd, Ontario Trading SA, Voyage Oil & Gas Limited, Elektron Petroleum Energy and Mining Limited, Ibeto Petrochemical Industries Limited and Emo Oil and Petrochemical Company.