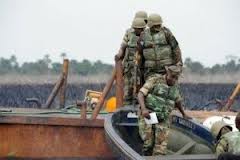 11 July 2014, Port Harcourt – The Joint Task Force (JTF) in the Niger Delta has declared that it has destroyed 110 illegal refineries in 7 months operation in Rivers State.
Lt-Col. Olusegun Oladuntoye, the Commanding Officer of 29 Battalion of the 2 Brigade of the Army, told journalists in  Port Harcourt, that the illegal refineries where destroyed in Soku, Akuku-Toru local government Area.
Oladuntoye said the success was recorded with the use of "Swamp Buggy" machines, which completely crushed metal storage tanks, reducing the capability for oil thieves to revive the refineries.
He said that the operation would continue until all the illegal refineries in the area were completely destroyed.
He disclosed: "We have destroyed over 40 illegal refineries in Alakiri, Dutch Island and Victoria Island (in Rivers), and in Soku oil field areas.
we have also destroyed over 70 illegal refineries. In early 2014; there was a review of (JTF) strategy which has to do with the use of swamp buggy (machine) for the destruction of illegal refineries.
"So far, the use of swamp buggy is very effective, in the sense that previously when we destroy and set ablaze illegal refineries; the metal cooking pots (storage tanks) still remained because the metal cannot be burnt. The challenges that we have had is that within three days (of destroying the refineries), the criminals put in (repair) one or two places that had been burnt and start their illegal operation all over again."
"The strategy had been very effective because most of the illegal refineries that had been destroyed had not been able to be re-activated."
Oladuntoye said that no arrest was made at the refineries because oil thieves with the help of civilian informants, usually fled the refineries on speed boats on sighting JTF troops.
"adding that "the JTF leadership endorsement of the strategy was in line with the Chief of Army Staff, Lt.-Gen. Kenneth Minimah's mission to optimise the army capacity to reduce national and global security threat."
The Commander maintained that in spite of the new approach, the task force would carry out constant air and ground surveillance of the creeks to ensure that new illegal refineries did not spring up.
In this article