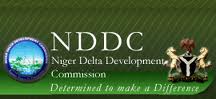 12 July 2014, Abuja – Owing to the late passage of the 2013 budget by the National Assembly, it has forced the Niger Delta Development Commission (NDDC) to roll over all the proposed capital projects to the 2014 budget.
The Director of Finance of the commission, Henry Ogiri, disclosed this yesterday at the budget defence of the commission, which stands at N322.6 billion before the House of Representatives Committee on NDDC.
According to him, out of the 2013 budget, the commission  only paid contractors who incurred expenses while executing ongoing projects.
He explained that: "For 2013, recurrent expenditures were going on, which include salary payments and others. But no new capital projects were awarded in 2013. All the capital projects in the 2013 budget were rolled over to the 2014 because of late arrival of the budget.
"Before we took over, capital projects going on were paid, because they used their own money, we used the money to pay them. But not in terms of new capital projects," Ogiri added.
This drew questions from members of the committee, who queried the commission for presenting disparate documents to it.
Hon. Uzoma Abonta (PDP, Abia) and Hon. Hassan Saleh (PDP, Benue) observed that  the documents before the committee indicated that capital projects were undertaken in 2013 and  80 per cent payments were effected on projects on education, agriculture and fishery.
But chairman of the committee, Mutu Nicholas Ebomo (PDP, Delta), mitigated the barrage of questions, saying: "Let us proceed to 2014 budget. Anything about 2013, we take it in our executive session.
– This Day
In this article