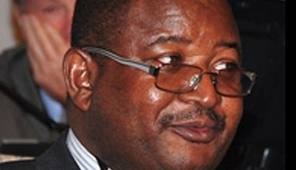 13 July 2014, Uyo – The Group Managing Director of the Nigerian National Petroleum Corporation (NNPC), Mr. Andrew Yakubu has said that the NNPC will continue to consult with relevant committees of the National Assembly until issues relating to its alleged indebtedness to the Federation Account were finally resolved.
Yakubu also blamed the pricing template of the Petroleum Products Pricing and Regulatory Agency (PPPRA) for the challenges facing the operation of NNPC, adding that the template did not capture offshore storage facilities owned by the corporation.
The Senate had after considering the report of the allegation made by the former Governor of the Central Bank of Nigeria (CBN), Mallam Sanusi Lamido Sanusi, on the non-remittance of oil revenue to the Federation Account by the NNPC, asked the corporation to remit the sum of $218.0 million considered as the Federation Account's share of third party financing.
It also requested for the remittance of $447.8 million, which it described as the Federation Account's share from the $6.815 billion crude oil liftings by NNPC on behalf of its subsidiary, the Nigerian Petroleum Development Company (NPDC).
The upper chamber also directed the corporation to refund of $262 million which its committee on finance described as expenses incurred by the NNPC in respect of holding strategic reserves and pipeline maintenance and management cost/capital expenditure, saying it could not satisfactorily defend it.
But while responding to questions on Friday at a capacity-building workshop organised for journalists by the NNPC in Uyo,  Akwa Ibom State, Yakubu said the national oil company had met with the various committees of the national assembly for as many as 250 times in the last two years, stressing that it will continue to engage with them until issues on the revenue remittance were satisfactorily cleared.
"The Petroleum Support Fund is operating based on the Petroleum Products Pricing and Regulatory Agency (PPPRA) pricing template and that pricing template has so many parameters but unfortunately, the operating environment has shown clearly that we cannot operate within that. If you look at other players in Nigeria, all of them have their tank-farms in Apapa and there is nobody that is in this business that is one kilometre away. But we try to fit within the template as much as possible.
"If by virtue of our operation, right from where we are coming from and you have to remember that we are coming from an operating environment where it was purely that we were just working for government and government will just say take this product and give me my money, don't worry about how much we are selling, but now we have transited from that into a profit making venture. And for you to engage in that profit making venture, you must operate within the business environment that will give you the profit. Now, if you create a pricing template that does not take into cognisance some of the challenges that we face by virtue of the operating environment, it is then difficult.
"We have had challenges in Arepo and others; you know very well that anytime that line is bridged, we cannot use that line. I am also made to understand that to avoid energy crisis in the country, I must have strategic storage.
"Now, to do so and I cannot have access to my onshore facilities and pipeline, I now have offshore storage facility but that is not reflected in the pricing template and when PPPRA is reconciling with me, they use their pricing template," he added.
Yakubu however said on the Senate request that: "What we are simply saying here is that if we have to do this job, then this is the real and true situation of doing it. The senate in their wisdom looked at it and say if it is not captured in the template, they don't care but the question is, if we don't do it and if I did not do it last year, I don't think I will be here talking to you.
"The same senate will also summon me and ask me why there are no petroleum products. The only person that will do that is a magician; it is left for them to judge, I cannot judge myself and if we state it clearly that we incurred this much and it is verifiable because it is there, we will then continue to engage and explain to make this fact clear", he explained.
"Let us know if I should be punished for being the supplier of last resort because if we decide to withdraw the strategic storage, we cannot withstand energy crisis in this country but we will get the report, look at it again and continue to engage them."
Yakubu, who also spoke on the scheduled turn-around maintenance (TAM) of the refineries, lamented that due to incessant pipeline vandalism, both Warri and Port Harcourt refineries now rely on supply of crude oil by marine vessels.
"Capacity utilisation of the refineries is 60 per cent of name-plate and the 60 per cent of the name-plate capacity is not because the plants cannot take more but because we have challenges of crude supply, so we have to go through marine. If you don't have a pipeline that supplies your crude continuously you cannot maximise the volume put in. So, if you have to go through marine and alternative sources, you are constrained based on the volume that those systems can deliver.
"To be frank, there is a major challenge, you cannot put a barrel in Excravos and get it at Warri end. So, that pipeline is completely abandoned. Warri to Port Harcourt is the same thing, it is absolutely impossible. Right now Shell is trying to bury their line, and we hope that if we can also bury our own that may help us. So, these are the key areas that constrain our capacity as we speak, once we can have the full complement of our pipeline in pumping and handle the Escravos facilities to give us crude, but the problem is you can't pump it," he regretted.
– This Day