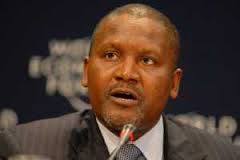 15 July 2014, Lagos – The Deputy Group Managing Director of Dangote Sugar Refinery Plc, Mr. Abdullahi Sule, has stated that the Dangote Group of companies generates 262 megawatts of electricity to address the chronic power outages from the national grid.
Speaking recently at a Business Forum and Annual General Meeting (AGM) organised by the Nigerian Gas Association (NGA) in Lagos, Sule disclosed that Dangote Sugar  generates 16MW, while the Dangote Cement at Obajana generates 135MW.
Sule further stated that the Dangote Cement Factory at Ibese generates 111MW, with Dangote Sugar consuming about 9,000,000 Standard Cubic Metre (SCM) of gas monthly.
The Dangote Sugar Refinery boss disclosed that the 1,320megawatt-capacity Egbin thermal plant system is similar to the power generation process at Dangote Group.
According to him, the Egbin thermal plant applies heat through the combustion of gas to produce steam, which extracts thermal energy from pressurised steam, amongst other processes to generate power.
He noted that despite the power reform carried out by the Federal Government and the huge gas reserves, Nigeria still lacks sufficient gas supply for domestic use.
Out of the current yearly gas production of about 2billion cubic feet,  Sule said about 40per cent is flared, adding however that there is now a 70per cent drop from the proportion flared before the power reforms.
He identified the consequences to include gas supply disruption to the few functional power generating companies and what he called "futile efforts of some state governments who commissioned oil majors to increase generation, and the approved construction of four thermal power plants (Geregu, Alaoji, Papalanto, and Omotosho) with a combined capacity of 1,234MW to meet its generating goal of 6,500MW in 2006."
Sule also identified the huge investments required for gas project off-take and credit risk management issues for potential investors in the sector as part of the consequences.
To realise the federal government's goals to increase power   generation through gas, Sule called on the government to continue to "encourage use of gas due to its benefits, which positions it to compete effectively with other refined petroleum products."
He pointed out that a conducive climate has been created for Power generation and distribution with the Independent Power Plants (IPPs).
According to him, the government should also encourage more Independent Power Producers ( IPPs) to boost power, and provide the much needed support for economic growth, and guaranteed returns on investments.
He also stated that the private sector has a critical role to play for the success of the gas to power projects, adding that they should  explore and maximise the vast opportunities that abound in the gas sector, as well as  gas to power projects.
– This Day
In this article