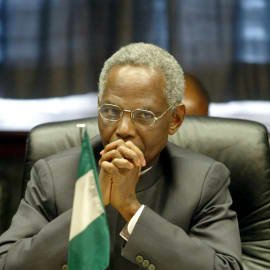 21 July 2014, Sweetcrude, Lagos – Dr. Rilwanu Lukman, severally appointed Secretary General of the Organisation of Petroleum Exporting Countries and former Minister of Petroleum of Nigeria died this morning in Vienna, Austria.
A family member disclosed Dr. Lukman who was 76 years old, passed away peacefully after a protracted illness at the Rudolfinerhaus Hospital at 1am Vienna time (12 midnight in Nigeria).
Dr. Lukman, a distinguished Nigerian engineer, alumnus and fellow
of the Imperial College, London held several ministerial positions in the Nigerian Federal government before becoming Secretary General of OPEC between January 1995 and December 2000.
In December 2008, Lukman was appointed Presidential Adviser on Petroleum Resources by Nigerian president Umaru Yar'Adua, holding office until March 2010.
Lukman who was born in Zaria, Kaduna State in August 1938 had trained as a mining engineer at the College of Arts, Science, and Technology, Zaria (now Ahmadu Bello University), and later at the Imperial College, London.
He holds a higher degree in mining engineering from the University of Mining and Metallurgy in Leoben, Austria (1967-1968).
He obtained a degree in Mineral Economics from McGill University, Montreal in 1978, and an honorary doctorate degree in Chemical Engineering from the University of Bologna in Italy.
His first job in the mining industry was as an Assistant Mining Engineer with A B Statsgruvor of Sweden (1962-1964).
After returning to Nigeria, Lukman was appointed an Inspector of Mines, later Senior Inspector and then Acting Assistant Chief Inspector in the Federal Ministry of Mines & Power in Jos, Plateau State (1964-1970).
He then became General Manager of the Cement Company of Northern Nigeria (1970-1974).
In 1979 Lukman became General Manager and Chief Executive Officer of the Nigerian Mining Corporation, Jos.
In this article