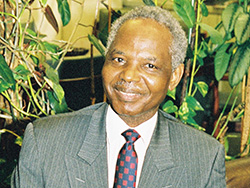 22 July 2014, Sweetcrude, Lagos – Dr. Edmund Maduabebe Daukoru, Mingi X11, Amayanabo of Grand Nembe, erstwhile OPEC President and former Energy Minister of Nigeria has described the passage of Dr. Rilwanu Lukman as a big loss to the industry.
"Definitely a big luminary of the sector is gone. There have been greats but none have had the privilege of coming and going like he has.
"I always called him senior because he was my senior, and as President of OPEC I made it a point to always call on him each time I was in Vienna and he reciprocated my visits with a return visit to my hotel before I leave for Nigeria.
"He was such a simple man and we will miss him. The best way to honour him will be to keep the industry vibrant," the Amayanabo said.
Both Dr. Lukman and Dr. Daukoru are alumnus and Fellows of the Imperial College, London.
In this article