18 February 2015, Abuja – The Department of Petroleum Resources, DPR, has said that lack of funding, infrastructure, transitioning of legacy agreements and commercial framework are major obstacles to the implementation of the Nigeria Gas Transportation Network Code, NGTNC.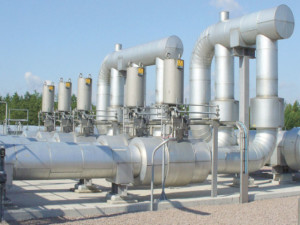 The Director, DPR, Mr. George Osahon, who disclosed this at a stakeholders meeting in Lagos, also said that the Network Code will enable new ways of doing business in the Nigerian Domestic Gas Market. The Network Code is a set of rules that is supposed to guide the use of gas transportation system in the industry.
According to Osahon, represented by his Deputy Director, Gas, Mr. Antigha Ekaluo, "We are at the current pace of inadequate trunklines (one owner), natural monopoly, limited or no third party access, no hubs, bundled system, dominant producers (export oriented IOCs), government interventions and no network code."
He said the gas industry craves for a sector where there are multiple pipelines (many owners), no inherent natural monopoly, open access, hub/ traders, separation of commodity and infrastructure, alternative producers, free market driven by willing buyer/willing seller, and a guided network code.
He said "The Code enables a contractual framework between the Network operators and the users that provide open and competitive access to gas transportation infrastructure. It ensures common set of rules to promote fair competition, creating a platform on which a competitive Nigerian gas industry will evolve as well as covering the Escravos-Lagos Pipeline System (ELPS) & Oben–Ajaokuta networks (code also to cover other networks).
"The code features some benefit in the gas industry, these are non-discriminatory basis, ensure system security, reliability and safety to be assured, tariffs to reflect the costs of service, rules to be clear, unambiguous and comprehensive. It should also allow free market solutions to develop, provision of mechanisms to handle disputes, modification rules, passed implementation of necessary IT infrastructure to support electronic transactions and enhance operations."
Also speaking, The Managing Director, Nigerian Gas Company Limited, NGC, Mr . Dafe Sejebor, hinted that the code comprises two distinct parts, which include; the transmission (trunk lines), of 1,800 km of high-pressure transmission pipelines and the distribution (spur lines) with capacities ranging from 2.50 billion standard cubic feet, BSCF and present demand of approximately 950mmscf/d.
Dafe maintained that the code is a framework between the transportation system operator, TSO, and shippers which specifies the terms and guidelines for operation and the use of the gas transportation network.
Thus, the network code provides for a non-discriminatory open access to gas transportation infrastructure, and is usually developed by the TSO in consultation with stakeholders and approved by the regulator.