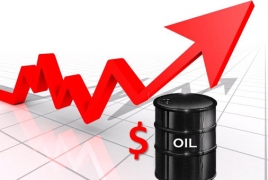 14 April 2015 – Crude prices rose on Tuesday on expectations US shale oil output will record its first monthly decline in over four years, but analysts warned that the broader market remained oversupplied.
Front-month Brent crude futures were trading up 52 cents a $58.45 a barrel in early trade, while US crude had risen 63 cents to $52.54.
The US Energy Information Administration expects US shale production to fall by 45,000 barrels to 4.98 million barrels per day in May from April.
That would underscore how record crude output from the US shale boom may be backtracking after global markets saw prices effectively slashed by 60% since June on oversupply and lackluster demand.
While political instability in the Middle East also helped push up prices, analysts said that high global production and stocks were capping gains.
"Geopolitical risk in oil markets remains elevated. From a fundamental perspective however, supply from the Middle East is expected to remain high, with Saudi Arabia and Iraqi production on the rise," JP Morgan said in a note.
"Our base case is for crude stocks to decline through 2015, as US production is expected to turn lower in 2Q2015. If production, however, remains unchanged through the remainder of 2015, US crude stocks will likely increase to above 540 million barrels during the fall refinery maintenance period," it said.
Analysts also said that demand remained relatively weak.
"With China's Q1 GDP figures about to be released tomorrow, we see very little upside even if prices move up today," Singapore-based brokerage Phillip Futures said.
China's economy is growing at its slowest pace in 25 years and its export sales contracted 15% in March, a shock outcome that deepens concern about sputtering Chinese economic growth.
*Reuters
In this article