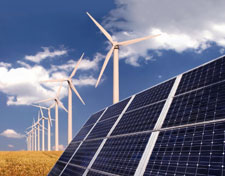 15 May 2015, Lagos – The Managing Director of Total Nigeria Plc, Alexis Vovk, has expressed the commitment of the company to explore alternative energy solutions in a bid to bring respite to homes and help the nation solve the electricity supply crises.
He said that the oil company has commenced a new Solar Home Solutions to be implemented in pilot phases for households throughout the federation, noting that the innovation would compliment the recent introduction of solar rechargeable lamps and solar powered filling stations.
Vovk, who disclosed this during the Seventh Lagos State Summit for Climate Change, said that with the global climate change and increasing carbon emission becoming one of the most serious threats facing humanity, Total Nigeria Plc sees the need for alternative energy technologies and solutions.
"In our efforts to lead the campaign for a greener tomorrow, we have taken bold steps to venture into a more environmental friendly energy solutions," he said.
He lamented the huge gap in electricity supply and demand in the country, making reference to the International Energy Agency's (IEA) Africa Energy Outlook, which stated that about 93 million out of Nigeria's 170 million population (55 per cent of the population), lack access to electricity.
He also noted that Nigeria's current electricity generation of 5,500MW (according to the Minister of Power) is not sufficient to meet the demand of the entire country which is estimated at 200,000 Mega Watts (MW); the result of which is resort to the use of costly alternative sources of energy that are fossil fuel based and which contribute to the already high carbon emission level in Nigeria.
"The level of CO2 emission from gaseous fuel consumption in Nigeria as at 2011was estimated to be at 23.58M MT (World Development Indicators). Hence, the need for development of alternative energy sources with lower carbon footprint cannot be over emphasized," he said.
Vovk re-emphasized that energy is essential for national development, submitting that no developing country can achieve economic sustainability without adequate energy supplies to meet her global need.
"Today, I am happy to announce that Total Nigeria is introducing different scopes of solar energy solutions to the Nigerian market, for domestic, industrial and commercial use. This is with the aim of improving energy efficiency, reducing carbon dioxide (CO2) emissions and making energy available to all.
"However, l will like to emphasize that though we have only just introduced the commercial offer of the solar solutions; it is a project that has long been developed. Our solar solutions include the Hybrid energy solutions for industries, the Solar Home Solution for families and homes and our portable, mobile Awango Total Solar lamps," he said.
*Phillip Oladunjoye – Daily Independent
In this article