04 June 2015, News Wires – At least 73 people were killed when a petrol station exploded in the Ghanaian capital Accra while it was being used as temporary shelter from torrential rain.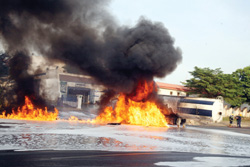 Many of the victims were commuters trying to escape the downpour when flood water swept stored oil towards a fire, according to a fire official.
Billy Anaglate, a spokesman for the Ghana fire service, said the emergency services had recovered dozens of bodies from the scene at a Goil filling station on the busy Kwame Nkrumah Circle north of the city centre.
Referring to the death toll, Anaglate said: "We are still trying to salvage the site of the accident before we can come out with an accurate figure."
He said flooding "caused the diesel and petrol to flow away from the gas station, and fire from a nearby house led to the explosion".
Later, the Ghanaian president, John Mahama, visited the scene, offering condolences and help to the families of the victims. He described the explosion as "catastrophic and unprecedented".