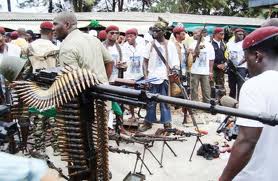 04 June 2015, Warri – Hundreds of pre-amnesty militants in the Niger-Delta in Thursday took to the streets and barricaded the strategic East-West Road at The Warri end to protest alleged non-payment of their monthly allowance by the authorities.
It was gathered that the protest was sparked by the alleged sudden disappearance of the Amnesty authority's director of finance and accounts identified as Mr Ayoola Peter and the consequent non-remittance of over two months' amnesty allowances.
The Amnesty official also allegedly made himself incommunicado with "all his phones switched off".
The protesters, under the canopy of "Third Phase Ex-Militants", disrupted traffic with their blockage of the ever-busy road as early as 7.30 am when numerous workers and motorists were leaving for their respective places of business of today via the Warri-Port Harcourt route.
Commercial activities in the adjoining areas were equally affected and it took the combined effort of various security personnel to dislodge and disperse the protesters.
Over 15 military and mobile police vans were deployed to the scene to dislodge the "ex-agitators", as they chose to be called.
The National Secretary of the third phase ex-militant agitators, Mr Tam Odogwu, described the sudden disappearance of the finance and accounts director as inexplicable.
The said Mr Ayoola Peter has reportedly taken charge of the Amnesty Office following the resignation of Mr Kingsley Kuku, the former presidential adviser in the amnesty office.
In this article