11 June 2015, Abuja – The Miners Association of Nigeria has called on President Muhammadu Buhari to compel manufacturing industries to start using industrial minerals found in the country rather than waste scarce foreign exchange on the importation of foreign alternatives.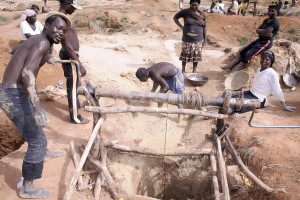 The President of the association, Alhaji Sani Shehu, made the call at a press conference organised by the body to address the challenges of mining development in the country.
Shehu regretted that in the midst of abundant industrial minerals, industries were wasting millions of dollars on importation of foreign mineral inputs.
He said, "Certain things are happening, which perhaps, the government is not aware of. Every year, millions of dollars are spent on raw materials that are so vast in this country. We have more than enough yet, we prefer to use the foreign exchange that we have to go and buy foreign raw materials.
"The implication of this is that we are creating jobs where we are importing these materials and creating unemployment here. We are enriching the people there and impoverishing our people here. I implore the President to immediately set up a team to conduct what we call gap analysis. The study will determine what is available and what is needed.
"In the last two years, Sokoto Cement and Ashaka Cement have been using gypsum produced locally. Before now, they spent billions of dollars importing this gypsum. This is applicable to barites and to other industrial minerals.
"We request the President to, in the next three or four months, make a decision as to what quantity of industrial minerals is available and compel our industries to use what we have in order to get what we want."
Shehu said in the midst of dwindling revenue from oil and gas, solid minerals presented the government with the quickest alternative to shore up its revenues and address the huge problem of youth unemployment.
He added, "Nigeria, having more than 33 commercially viable solid mineral deposits, generates less than one per cent of its Gross Domestic Product from the sector as against the erstwhile 10 per cent contribution before oil.
– Punch