12 June 2015, lagos – Activities at the Roll on Roll Off (RoRo) terminal have been at very low ebb in the last six months owing to the decline in cargo volume at the  port.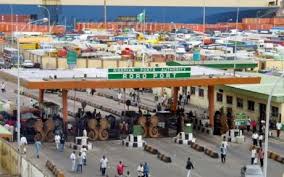 Sources at the port attributed the development to the hike in tariffs on imported vehicles as a result of the federal government auto policy.
The policy, initiated by former Minister of Industry, Trade and Investment, Mr. Olusegun Aganga was said to have caused Nigeria to lose more than 60 per cent of her  vehicle  import volume to the Cotonou Port in the neighbouring Republic of Benin.
Besides, the drastic reduction in activities at the RoRo terminal, which is located in the Tin Can Island Port Complex (TCIP), Apapa, Lagos is said to have caused a significant drop in the federal government revenue, as vehicles are now smuggled into Nigeria.
THISDAY checks revealed that the RoRo terminal is virtually grounded as it presently operates at only about 30 per cent capacity as cargo meant for the Nigerian markets are diverted to other ports situated in the neighbouring countries, particularly Republic of Benin and Togo.
THISDAY checks also revealed that these cargo imported through the neighbouring ports,  end up in the Nigerian market through smuggling and other forms of illegalities.
When THISDAY visited the RoRo terminal earlier in the week, many port users, especially importers and freight forwarders, were seen lamenting the poor business environment since the beginning of the year.
One importer said: "My brother, we thought that after the general elections, things will pick but that is not the case now. There is little or no activity. I have little or nothing to do. By this time last year, I was doing better. Business was booming. Right now, there is a significant drop in cargo volume. The cars that used to constitute a big chunk of our cargo clearance are no longer there because of the hike in tariff as a result of the auto policy."
The importer who spoke on the condition of anonymity said there was nothing wrong with the auto policy but its implementation has to be done gradually so that Nigeria and Nigerians would be in a position to reap its benefits.
"There are certain things that ought to be in place before the policy is executed. An example is a robust steel industry and regular power supply, otherwise the cars produce locally would so exorbitant that no one would be able to buy them. That is my submission," he said.
Meanwhile, the Nigeria Customs Service (NCS) has said that its multilateral commitment to the Economic Community of West African States (ECOWAS) treaties and others within the World Trade Organisation (WTO) would take a toll on its revenue base.
The Public Relations Officer (PRO), NCS Headquarters, Alhaji Adewale Adeniyi stated this on the sidelines of the just conclude two-day workshop on 'Common External Tariff: Implementation, Challenges and Prospects' organised for maritime reporters in Abuja.
Adeniyi, a Deputy Comptroller, said that with such treaties in place, NCS would need to review its key performance indicators which are usually measured by the amount of revenue generated within a specific period of time to the development of industries in the country.
He said NCS would no longer measure its output based on revenue generated but will also focus attention on cargo processes at the port.
"All along, it is good when we say we have generated so amount of billions of naira. All along, the matrix that we use is to say that we have target x and we have achieved million x plus y and then everybody believes we have done well. This paradigm is going to shift in the years to come because of situations like this.
"Our multilateral commitment to treaties like ECOWAS to other works within the WTO is going to take a lot of toll on our revenue base. So we have to find other standards for measuring how good we have performed.
We are going to be talking on how we are supporting our industries, we are going to be talking about how many industries are operating despite the harsh economic development, we are going to be engaging our stakeholders and be telling them how many graduates we have been able to employ.
"We are going to focus on how long it takes to process declarations and how many do we process in one day, what is the time it takes to discharge goods from vessels and the time it takes to leave the port. These are some of the new matrix we are going to be developing as our key performance indicators not necessarily how much of revenue collected," he added.
– This Day
In this article