15 June 2015, Osogbo – The Area Customs Comptroller for Osun and Oyo Command, Mohammed Sulaiman Bawa last week said that the Command generated N3.652 billion between March and May 2015. He also noted that anti-smuggling numbers of seizures during the period stood at N113.45 million.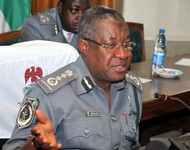 Bawa, who spoke to journalists in Osogbo on the activities of the Command, said the command had put in place effective measures in the control of borders within the Area Command.
He equally revealed that anti-smuggling will also be adequately checked to combat crime along the borders.
The Comptroller,  who pledged full commitment to restore sanity to the Area,  contended that all efforts will be geared towards development of the command in the area of safety, Staff welfare and provision of adequate weapons for the officers and men of the Command.
While speaking on the security of the officers and men of the Command the he  noted that adequate arrangement had been put in place by the authority to ensure safety of officers during their operations along borders.
Bawa, who sought for the support of Association of Motor Dealers in the Area, urged them to always follow due process to afford embarrassment from the officers at the borders .
"Follow due process and you shall be free from embarrassment from any officers on the road because Cos toms officers and the Association are partner in progress he said," he said.
– This Day
In this article