17 June 2015, Calabar – The Flag Officer Commanding, Eastern Naval Command, Rear Admiral Henry Babalola, on Saturday appealed to the Federal Government to provide more gunboats to enable his command to tackle piracy and other criminal activities on the high sea.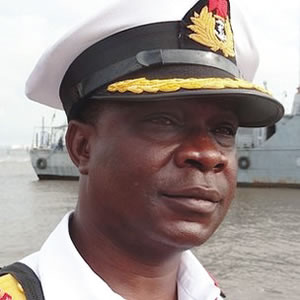 The FOC, who was responding to questions on the recently reported cases of sea robbery along the Bakassi waterways, noted that although the Federal Government had provided gunboats, there was the need for the FG to provide more.
Babalola said this at the headquarters of the Nigerian Navy Ship Victory in Calabar after a 10-kilometre road march aimed at assessing the physical and mental alertness of officers and men of the command in readiness for emergency situation.
No fewer than 200 officers and men of the command participated in the road march that started from the NNS Victory parade ground went through IBB Way, Marian Road, Mary Slessor Avenue, Calabar Road and back to the take-off point.
According to Babalola, the 84 nautical miles that stretches from the shores of Calabar to the high sea requires so many assets to effectively tackle criminalities.
He said, "Although it is not really possible to completely eradicate crime, there had been a drastic reduction. We have 84 nautical miles of water to patrol, if you consider that, it is about half the size of Nigeria's land mass. The sea is unlike the land where you mount road blocks.
"But when you check from the data released by oil companies operating on the high sea, there had been reduction in crime in the last five years. The Eastern Naval Command goes on patrol everyday and we are appealing to the Federal Government to come to our aid. We need more assets to do our job," he said.
Speaking on the road march, Babalola said the exercise had helped the military in maintaining discipline, adding that such an exercise was designed to achieve orderliness.
– Punch