19 June 2015, Lagos—A Federal High Court sitting in Lagos, Thursday, dismissed the preliminary objection by the 14 foreign nationals, who are facing a four-count charge of conspiracy, unlawful dealing and storage of petroleum products without lawful authority.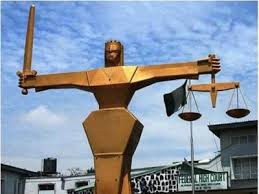 The accused persons had challenged the jurisdiction of the court to hear the charge.
Trial judge, Justice Ibrahim Buba in his ruling, said that the accused were charged under the Miscellenous Offences Act which the Economic and Financial Crimes Commission, EFCC, had powers to institute proceedings.
The court added that the charge was instituted on behalf of the Federal Republic of Nigeria, noting that EFCC had powers to represent Nigeria in any economic or criminal matter, more so that the accused had taken their plea without any objection.
"The instant case is not an abuse of court proceedings, the accused has a case to answer and the court has jurisdiction to entertain the case, I hereby dismiss the objection and adjourn the case till June 19, for trial," Buba said.
Counsel to the accused, Mr Babajide Koku, SAN, had argued that the accused were not carrying out any illegal activity on Nigeria's territorial waters.
The accused are: Three Russians — Arthur Pakhladzhian, Vasaliy Shkundich and Kretov Andrey; Sergio Abgarian (Japanese); and Vitalis Biluos, Laguta Olesksiy and Chepikov Oleksan, all Ukrainians; Britons — Hilarion Teofilo Regipor JR, Cadavis Gerardo, Baduria Benjamin, Naranjo Allian Antero JR, Patro Christian, Alcayde Joel and Carantiquit Micheal Bryan.
– Vanguard
In this article