20 June 2015, Lagos – Power generation in Nigeria fluctuates between 2,000 and 3,500 megawatts forcing the citizens to rely on generators, which gulp N3.5tn annually and a whopping N17.5tn in the past five years, writes Dayo Oketola.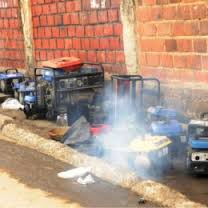 Despite the huge government investment in the power sector in the last 16 years, Nigeria has only succeeded in mustering an installed electricity generation capacity of 10,000 megawatts. Yet, the country operates at about 30 per cent of this capacity with generation fluctuating between 2,000 and 3,500MW. Painfully, per capita electricity usage in the country remains 136 kilowatt/hour.
This is one of the lowest electricity consumption on a per capita basis in the world when compared with the average per capita electricity usage in Libya, which is 4,270KWH; India, 616KWH; China, 2,944KWH; South Africa, 4,803 KWH; Singapore, 8,307KWH; and the United States, 13,394KWH.
An average Nigerian citizen consumes just eight per cent of the electricity used by a Brazilian and four per cent of that of a South African. More than half of the nation's 176 million people are not connected to the national electricity grid. The country's paltry power generation, which is shamefully low, is expectedly inadequate for those connected to the grid. As such, these Nigerians rely on generators with its attendant operational and maintenance costs for running their homes, factories, schools, universities, government offices and the entire economy.
This costs a lot and studies as well as experts put the annual spending on the purchase of petrol and diesel for running generators by Nigerians at a whopping N3.5tn, amounting to N17.5tn in the past five years under former President Goodluck Jonathan. With huge potential for increased sale of generators, importers have turned the country into a dumping ground fleecing the citizens of their money while supplying sub-standard generators to them.
Putting N17.5tn in perspective
In the absence of robust and reliable data on the actual cost of purchasing fuel for generators nationwide, a report by the Good Governance Initiative, a non-governmental organisation advocating uninterrupted power supply in the country, said Nigerians spend N3.5tn on fuelling their generators annually.
Breaking it down, the GGI President, Mr. Festus Mbisiogu, said, "The GGI conducted intensive research into the negative multiplier effect of unsteady power supply and some data that showed that the manufacturing sector spends over N800bn yearly on generators."
This, according to him, is in addition to about N2tn spent on running generators by millions of Small and Medium Scale Enterprises, banks, other corporate entities and traders across the country.
He said, "In the banking sector, each branch spends over N4m on diesel in a month, multiply it by the number of branches in Nigeria. An average family man spends between 60,000 and N100, 000 in a month on fuel, apart from the maintenance."
With over 6,133 banks' branches and each expending N4m on diesel a month, N48m will go down the drain in a year, and this will amount to N294.4bn per annum cross all the branches. This means that not less than N1.5tn must have gone into diesel purchase in the past five years. This is outside the amount spent on powering ATM points located outside banking premises and maintaining the generators, among other critical banking infrastructure.
A power sector white paper prepared by the Directors, CBO Capital Partners Limited, Mr. Chuka Mordi, and Mr. Bex Nnwawudu, which lend credence to GGI's claim, said, "According to a recent research, Nigerians spend N3.5tn annually on diesel and petrol to fuel generating sets. Households, offices, and governments spend up to N2.8tn self-generating electricity. Nigerian self generated power in 2013 amounted to 26.5GWh."
The National Bureau of Statistics put the total number of SMEs in the country at over 17 million, many of which rely on generators to run their businesses as the country continues to grapple with abysmally low power generation.
The total number of Base Transceiver Stations owned by MTN, GLO, Airtel and EMTS (Etisalat) as of December 2013, was put at 28,289, while Visafone and Multilinks had a total of 641. Most of these base stations/switches run on at least one diesel generator while some of them have an additional backup generator each.
MTN, the country's biggest GSM operator in terms of subscriber base, on May 25, emphasised how critical diesel has become to its operations during the recent fuel crisis. The telco's Corporate Service Executive, Mr. Akinwale Goodluck, said, "MTN's available reserves of diesel are running low and the company must source for a significant quantity of diesel in the very near future to prevent a shutdown of services across Nigeria.
"If diesel supplies are not received in the next 24 hours, the network will be seriously downgraded and the subscribers will feel the impact."
Meanwhile, former Minister of Communications Technology, Mrs. Omobola Johnson, had during her tenure said that the country would need 33, 000 additional base stations between now and 2018 to boost quality of service. This means telecoms operators will spend more to fuel their generators if the country's power supply situation does not improve.
Already, the CBO Capital Partners' power sector report had revealed that Nigeria's households, offices, and governments spent up to N2.8tn to self-generate electricity in 2012.
– Punch