25 June 2015, Lagos –  A cross section of Nigerians on Wednesday urged the Federal Government to discontinue its subsidy payment policy to marketers importing fuel.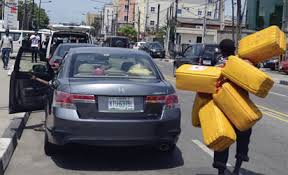 The respondents  in Lagos said  that removal of petroleum subsidy would be good for Nigeria's prosperity.
The Director, Centre for Bee Research and Development, Mr Bidemi Ojelewe, said that the controversy about the fuel subsidy payments was demoralising to the populace.
He said the country's economy would rapidly develop and prosper if normalcy reigned over subsidy payments to marketers.
"Removal of fuel subsidy is inevitable if our government wish to meet the pressing anticipation of the masses,'' he said.
Prof. Michael Akur, who lectures at the Department of Political Science, University of Jos, said: "The discontinuance of subsidy on fuel consumption will reduce the inflationary pressures our economy is facing.
"We should have a departure of the subsidy era as soon as possible.
"This departure is necessary because our economy has not grown in the manner it ought to.
"This economy will not progress if government continue to subsidise consumption of commodities such as fuel and the likes,'' he said.
A civil servant, Mr Shuaibu Yusuf, urged the Federal Government to scrap the programme of fuel subsidy payment and disburse funds earned by such scrapping to revamp the power sector.
"Our power sector is one area that needs more funds to be revamped.
"The money realised from the stoppage of subsidy payment should go into solving other challenges in other sectors.
"Government should introduce a modern mass transit scheme across the country so that ordinary citizens will not fill the impact of subsidy removal if eventually done,'' he said.
A proprietor of a medium-size enterprise in Lagos, Mr Akeem Ogidan, said that the Federal Government policy to part finance cost of fuel consumed by Nigerians was not sustainable.
Ogidan, the Chief Executive Officer, Tanke Paper Mills, said that governments at all levels needed to pursue policies that would save and earn for them more money.
He also noted that to continue the fuel subsidy policy in era of declining oil prices in the international market would worsen Nigeria's economy.
"We must get rid of the subsidy scheme especially in this dispensation where austerity is been experienced in virtually all states in the Nigerian federation.
– NAN
In this article