Oscarline Onwuemenyi 25 June 2015, Sweetcrude, Abuja – The House of Representatives has resolved to investigate alleged scams in the Refined Product Exchange Agreement, commonly called crude oil swaps contracts, involving the Nigeria National Petroleum Corporation and some companies.
The House agreed to set up a committee to investigate whether the government has been short-changed by a state oil company scheme to swap crude for refined products.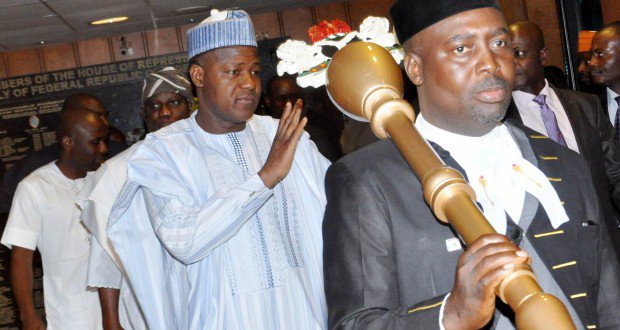 The Federal government may be losing money through opaque contracts in which crude oil worth billions of dollars is given to traders in exchange for refined imports, mainly gasoline, international and domestic watchdogs have said.
The contracts, known as offshore processing agreements (OPAs) are between Pipelines and Product Marketing Company (PPMC), a subsidiary of state-run Nigerian National Petroleum Corporation (NNPC), and oil trading companies.
The lower house of parliament has therefore adopted a motion to constitute an ad hoc committee "to forensically investigate the allegations of malpractice by the Nigerian National Petroleum Corporation (NNPC), with particular reference to crude oil swap contracts."
The motion listed nine companies that have been awarded product swap contracts for a total of 445,000 barrels per day.
Sweetcrude Reports reported earlier in June that Nigeria's anti-corruption agency EFCC and domestic intelligence service DSS began an investigation into the swap trades last month.
The PPMC head was among the NNPC and company officials called in by the investigating agencies to answer questions about the agreements.
Following a motion sponsored by Michael Enyong, from Akwa Ibom State, the House resolved to constitute an Ad-hoc committee to investigate the NNPC, as well as its subsidiary, Pipelines and Products Marketing Company over the swap contracts.
Mr. Enyong said that crude oil amounting to 445,000 barrels per day was awarded to the nine companies including, Sahara Group, Aiteco, Duke Oil, Mercuria, Glencore, Taleveras Nig. Ltd., Etena Oil and Gas, Tranfigura, a Swiss firm, and Ontario Oil and Gas.
He said a barrel of crude amounts to 159 litres and if a barrel is multiplied by 445,000 barrels, it would amount to 70,775000 litres per day, whereas Nigeria daily consumption is 40,000,000 litres per day.
Mr. Enyong said the House should be disturbed "that the Nigerian Extractive Industries Transparency Initiative in its 2009-2011 and 2012 reports had ascertained that there was massive staggering revenue loss of 8 billion USD due to discrepancy between the value of the crude oil given out and the refined products delivered.
"In year 2011,there was a shortfall of 500,075,32 litres of refined products by the five companies, namely Tranfigura, 173,786600 litres; Vitol, 654,440 litres; Taleveras, I52,308,878 litres; Aiteco, 193,046590 litres; and Ontario Oil and Gas, 180,278,732 litres. "
The motion was opposed by Obinna Chidoka, PDP, Anambra State, and Mojeed Alabi, APC Osun State.
While Mr. Alabi argued that the motion was lacking in research and date accuracy, Mr. Chidoka said the figures quoted were not correct.
But Victor Ogene, PDP Lagos State supported the motion,
citing the amount of money involved and the importance of the subject.