25 June 2015, Lagos – From 38 in January this year, the number of active oil rigs in Nigeria plunged to 28 in April, mostly triggered by the slump in global crude oil prices.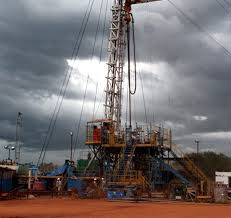 Oil prices dropped by more than 60 per cent between June 2014 and January 2015 from a peak of $115 per barrel, but have recently shown signs of stabilising.
The rig count is largely a reflection of the level of exploration, development and production activities occurring in the oil and gas sector.
Nigeria, Africa's top oil producer, saw the second-largest drop in rig count after Venezuela in April as was the case in March, when 32 rigs were recorded, down from 36 in February, data from Baker Hughes Incorporated and the Organisation of Petroleum Exporting Countries, OPEC, showed. In May, the rig count increased to 29.
An energy expert and Technical Director, Drilling Services, Template Design Limited, Mr. Bala Zakka, told our correspondent in a telephone interview that most of the 28 rigs recorded in April were not drilling.
He said the actual number of rigs drilling was less than 20. "The reason is because most of them have run out of contracts due to uncertainty, and the uncertainty simply means a lot of the major operators are not drilling more development wells. Of course, they have not been drilling exploratory wells," he said.
Zakka attributed the decline in rig count to the general fall in crude oil prices in the international market; inability of the Nigerian National Petroleum Corporation to meet its cash-call obligations to its joint venture partners; and growing security problems facing operators on land and in shallow waters.
He added that some operators had decided to scale back their activities and investments due to the regulatory uncertainty in the industry occasioned by the delay in the passage of the Petroleum Industry Bill.
"If the PIB had been passed and security improved, the level of drilling activity would increase even with the current low oil prices. Many are not interested in investing (in the country) because they are not sure what the fiscal regime will be," he said.
The Chief Executive Officer, Jalz Energy Limited, Lois Machunga, said oil companies had reduced their work programmes as a result of the steep drop in oil prices since June last year.
"Exploration wells have been declining in Nigeria. Companies are cutting their costs," she said.
But aside from the fall in crude prices, Nigeria has a peculiar situation as government policies towards the oil and gas industry may be having a short-term impact on upstream activities, Machunga said.
"Unless the global oil market changes significantly, I don't see how Nigeria will suddenly see an increase in rig count. The market is still weak," she added.
Global benchmark Brent crude and the United States West Texas Intermediate moved up in April to a 2015 high, with Brent above $60 per barrel for the first time this year. The rise was driven partly by the notion that the supply glut in the market might be easing, with a projection of higher demand.
Nigeria aims to grow its oil reserves, but it has seen its reserve base decline from 37 billion barrels to 35 billion barrels, according to the Department of Petroleum Resources.
– Punch