15 July 2015, Lagos – Shell Petroleum Development Company, SPDC, yesterday, lifted its more than two months force majeure on exports of Nigeria's Forcados crude oil stream, following the repair of the Trans Forcados Pipeline.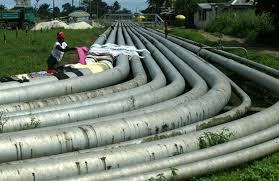 According to a statement by the company, the Joint Venture had earlier declared force majeure on the evening on May 5 following a series of leaks in the Trans Forcados pipeline that brings the oil to the export terminal.
The Trans Forcados pipeline has a capacity of 150,000 barrels per day. Specifically, the Nigerian Petroleum Development Company, NPDC, a subsidiary of the NNPC, uses the pipeline to transport around 11,000 barrel per day of crude and 6.5 million cubic feet of gas per day, while Seplat Petroleum uses the pipeline to transport its over 60,000 barrel per day of crude oil output.
Despite the fact that the bigger, 28-inch and 48-inch sections of the pipeline are operated by Shell, closure of the pipeline, not only disrupted NPDC crude oil production, but also cut gas supply to power plants in the Niger Delta.
Data obtained from Reuters revealed that the original plan of exports for Forcados crude in July included seven cargoes with a total of 6.3 million barrels of oil.
However, traders noted that several of the cargoes have already been deferred to August as a result of loading delays.
The data explained that an overhang of light sweet crudes in the Atlantic Basin has depressed differentials to dated Brent and limited the impact of recent supply disruptions on some West African crude oil grade.
The NNPC had in its Annual Statistical Bulletin for 2014 released a couple of days ago, stated that the country  lost crude oil and other petroleum products valued at N59.597 billion to pipeline vandalism in 2014.
The NNPC had disclosed that pipeline vandalism increased by 4.54 per cent compared to the situation in 2013.
The NNPC noted that 355,690 metric tonnes of petroleum products valued at N44.75 billion was lost in the period under review, in addition to 1.08 million barrels of crude oil valued at about N14.847 billion.
It said, "A total of 3,732 line breaks was reported on NNPC pipelines out of which 3,700 was as a result of vandalism, while 32 cases were due to system deterioration resulting in a loss of 355.69 thousand metric tonnes of petroleum products worth about N44.75 billion.
"Also 1.08 million barrels of crude oil worth about N14.847 billion was lost in the same period. There were 32 cases of fire incidents during the year under review."
Giving a breakdown of crude oil loss, the NNPC stated that the country lost 17,964 barrels of Bonny Light valued at N264.37 million, while 586,776 barrels of Escravos Light valued at N8.636 billion was lost to pipeline vandalism in the period under review.
– Vanguard