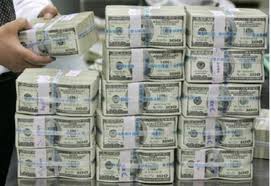 23 July 2015, Lagos — Data obtained from the website of the Central Bank of Nigeria (CBN), on Wednesday, showed that the nation's foreign reserves rose by $1.108 billion in the first 15 months of July, 2015, closing at $30.109 billion from $29.000 billion on June 30, 2015.
This is the first time in recent weeks that the reserves level touched $30 billion. Before the latest rise, it stood $29.595 billion at the end of May; $29.528 billion on April 30; and $29.789 billion at the end of previous month.
Analysts are quick to link the latest rise to the recent decision by the apex bank banning importers of 41 goods from accessing foreign exchange from official inter-bank market.
The CBN, had in a circular dated June 23, 2015, said the move to stop sale of foreign exchange to importers of rice, private jets, textiles, tomato paste and poultry products, among others, was part of efforts to beef up its fast depleting external reserves.
The circular, which was signed by the Director, Trade and Exchange, CBN, Mr. Olakanmi Gbadamosi, stated that implementation of the policy would also facilitate the resuscitation of domestic industries as well as generate employment.
In a telephone interview, Cyril Mpaka, a financial expert and former member of the budget team in Cross River State, told our correspondent that the rise in the reserves cannot be unconnected with the CBN's forex restriction on importation of certain goods by the CBN. The move, he said, has stemmed occurrences of forex leakage that was the norm before now.
According to him, "my take on this is simple; the country is now reaping the reward of the CBN's forex ban on importation of 41 items. I said sometimes ago that until we block loopholes in the way we handle forex in this country, the reserves will continue to deplete. "Though, there are calls by a cross section of Nigerians that the CBN should review the ban, I am of the opinion that the ban should continue," he added.
For Rasheed Alao, Senior Lecturer in the Department of Economics, Adeyemi University of Education, Ondo, believes the issue of foreign reserves should be taking very seriously by the Buhari's administration and that urgent steps should be taking by government to plug all loopholes in the economy which are affecting the foreign reserves.
Anor Anyanwu, banker and former Deputy Managing Director of Mainstreet Bank, however thinks Nigerians should not jubilate yet, because in his words, "we have seen in the past where government and the CBN made policy somersault of some good decisions in the past in the name of politics."
Meanwhile, the decision to ban the sale of forex to imports of the listed items may be one of those to be reviewed during the two-day MPC meeting in Abuja, where other decisions would be taken as to whether to raise, hold or reduce benchmark rates such as the Monetary Policy, Cash Reserve Ratio and others.
*Bamidele Ogunwusi – Daily Independent
In this article