16 September 2015, Port Harcourt – Some traders at the Rumuwoji, Mile One Market in Diobu axis of Port Harcourt have called on the Electricity Distribution Company to remove two high tension poles that fell in the market.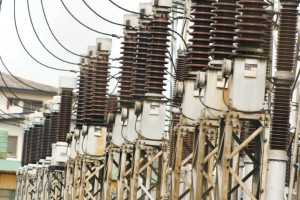 The traders said a truck had hit a pole on Ikwerre Street on Tuesday.
The Chairman of Rumuwoji Community Market, Nze Peter Ezeugo, told Southern City News on Tuesday that his visit to PHED office on Ikwerre Road had not yielded any positive result as officials of the company had refused to remove the "dangerous" high tension poles.
He alleged that one of the officials had insisted that money be contributed by residents and traders within the area towards the removal of the pole.
Ezeugo added that the PHED official gave them (traders) another option of waiting for the outcome of the report they were writing on the incident before anything could be done.
"We went to PHED when the incident happened last Tuesday. It is over a week now, but nothing has been done to remove the high tension poles from where they are currently.
"The first time we visited PHED, they came and disconnected the cables fitted to the high tension poles. But as you can see, some parts of the two poles are delicately resting on a roof of a trader's shop and if nothing is done urgently, the poles can finally fall to the ground and may hit somebody.
"In fact, I went to them for more than three or four occasions and they told us that we should have held the person that caused the installations to fall. But we told them (PHED) that it happened around 4am when we had all left the market.
"A very big truck hit one of the poles from Ikwerre Street there and it affected the high tension too. We are currently living in fear now because of this very one that fell on the roof.
"One of them said that if we wanted them to remove the high tension poles, we should bring money. He also gave an option for us to wait until they send their report on the incident.
"I told them that the high tension poles can fall to the ground at any given time and can kill somebody, but they did not listen to me. My people are saying that it is their (PHED) work and they need to ensure that our lives are safe by removing the poles and not to ask that we pay money for them to do their work," Ezeugo added.
A trader, who deals in curtains, called on the state government to prevail in PHED to remove the high tension poles to save their lives.
A resident of the area, who identified herself as Mrs. Evelyn Yawo, said, "For two weeks now, we have not got light in my compound, we use up to three metres; we are up to four or five using one particular metre. But PHED is billing us that are using one metre over N12,000 for a month.
When contacted, the Public Relations Officer of PHED, Mr. Jonah Ibomah, said though issue of removing poles fell under the purview of the transmission company, he would put a call across to them to ensure they (high tension poles) were removed.