16 September 2015, Lagos – A leading major oil marketing company, Forte Oil Plc, has commenced the sale of kerosene for N50 per litre in line with the aspiration of the federal government for the product to be available at subsidised price.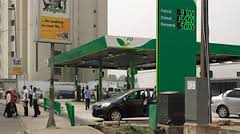 The company commenced the sale of the product, which it officially called "Buhari Kerosene" in its retail outlets in Lagos on Tuesday and has promised to extend it to other retail outlets across the country in the coming days.
THISDAY  which monitored the sale across Lagos, observed a huge turn-out of people mostly women  in Forte Oil filling Stations Ikoyi, Victoria Island (Oniru), Aja road, Oba Akran, Agindigbi, Airport road and other parts of Ikeja.
An official of the Forte Oil filling Station in Oba Akran told THISDAY on condition of anonymity that the directive to sell kerosene for N50 came from the Chairman of the company, Mr. Femi Otedola.
"Chairman directed us to crash the price. This is Buhari Kerosene and you know that President Buhari wants kerosene to be affordable to the common people. We have no choice than to obey the last order. We have discharged one truck and we are expecting another truck this evening," he said.
At Forte Oil filling station in Awolowo Road, Ikoyi, one truck of kerosene, which was yet to be discharged into the underground tanks, was seen parked at the station.
Though a good number of customers had gathered with containers, waiting to buy the product but no sale was going on.
An official of the station, who did not want his name in print  also told THISDAY that the product would be discharged as soon as they finished repair works on the underground tanks.
"We have not discharged because we are working on the underground tanks. As soon as we finish the work, we will discharge this evening and start selling for N50 because that is the directive given to us," he said.
At all the retail stations visited, long queues of end users were seen making their way to purchase gallons of kerosene.
A top official of the company, who spoke to THISDAY on the new initiative, reaffirmed the commitment of the company to best service delivery by being in the forefront of the pump price of N50 per litre for kerosene across its retail outlets.
"With this, Forte Oil has taken the bold step by making kerosene readily available at the official rate which is geared to impact positively on the lives of the citizenry as the average user now has the opportunity to buy directly from dispensing pumps at all Forte Oil retail outlets nationwide," he added.
The NNPC imports and sells kerosene to marketers at the ex-depot price of N40.90 to enable them sell at N50 at the pumps, but the marketers sell at N120 – N140 at the pumps.
In this article