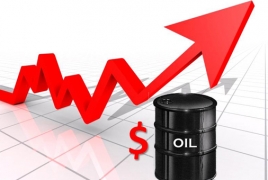 24 September 2015 – Oil prices pared some losses on Thursday after sharp falls overnight on an unexpectedly large buildup in US gasoline stocks and seasonally tepid demand.
The global benchmark November Brent contract had climbed 44 cents to $48.19 a barrel early on Thursday, after ending the previous session down $1.33 at $47.75 a barrel.
US crude rose 47 cents to $44.95 a barrel, having slumped $1.88 on Wednesday to settle at $44.48.
"A combination of a slightly better supply-side scenario in terms of prices and a bit of an improvement in industrial sentiment globally has brought in some support," said Michael McCarthy, chief market strategist at CMC Markets in Australia.
Data from the Energy Information Administration on Wednesday showed that US crude stocks fell 1.9 million barrels in the week to 18 September, the second straight weekly drawdown, compared with analyst expectations for a decrease of 533,000 barrels.
But gasoline stocks rose 1.4 million barrels, compared with analyst expectations in a Reuters poll for a 819,000-barrel gain.
A planned shutdown of Britain's North Sea Buzzard oilfield, the biggest contributor to the Forties oil stream which is the largest of the four North Sea crudes used in Brent benchmark, has been reset to November from October, its operator Nexen said.
Longer-term, a supply surplus continues to weigh on markets.
"Despite early signs of a cutback in US shale production, the underlying supply and demand fundamentals remain weak for both Brent and WTI. This, alongside uncertainties surrounding China and the broader health of global economy, is capping any recovery in prices," said BMI Research, part of the Fitch ratings agency.
"We maintain our below-consensus forecast for both grades in 2016 and 2017, as major supply additions in West Africa, North America, the North Sea and the Middle East will continue to outpace the growth in demand, contributing to a rising overhang of crude in the market."
Asian shares got off to a cautious start on Thursday after more dour economic news in China and the US prompted a bruising selloff the previous day.
*Reuters