26 September 2015, Lagos – The reneweable energy centre of the University of Ilorin will address Nigeria's energy needs when completed, the Vice Chancellor, University of Ilorin, Prof. AbdulGaniyu Ambali, has said.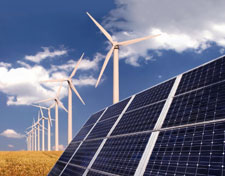 Noting that there is the need to augment the power generation and distribution of the Power Holding Company of Nigeria, he stated that the energy centre would assist PHCN in power generation in the country.
Speaking with journalists in Ilorin on Wednesday on the sidelines of UNILORIN's 40th anniversary, he also said the project when realised would curb pollution, desertification and engender more friendly environment.
Ambali said,"We just set up a reneweable energy centre, that centre when it comes to fruition, should be able to address our energy needs in the country.
"In terms of augmenting what PHCN is able to do, it should be able to curb desertification, that is encroaching on our land and it is going to make the environment more friendly.
"The air we breath in will be better, there will be less pollution and then our gentlemen and ladies that are cooking in their various homes should be able to do that under a more conducive atmoshpher."
In this article