Chuks Isiwu 30 September 2015, Sweetcrudee, Lagos – Ghana has successfully commenced the monitisation of its associated natural gas with the recent launch of the one-billion dollar Atuabo gas processing plant in Jomoro, Western Region.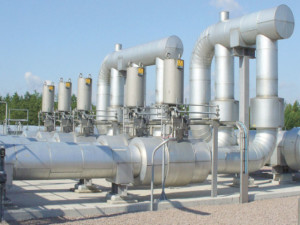 Work on the project – the first of the country's s effort at monetising associated natural gas from the Jubilee Field – commenced in July, 2011.
The plant has the capacity to process more that 180,000 tonnes of liquefied petroleum gas, LPG, for domestic use, representing about 70 per cent of the national requirement of 240,000 tonnes; the delivery of 46, 000 tonnes of condensate in about 15,000 tonnes of isopethain which will help reduce pressure on the national currency by reducing the import of these products now available through Ghana gas.
The scope of work at the plant included the design and construction of a 45-kilometre shallow water extension of a pipeline from the production platform, the FPSO Kwame Nkrumah, to the onshore processing plant at Atuabo.
It also included the construction of 111-kilometre transmission pipeline from the Atuabo to the Aboadze Power Enclave in the Shama District, as well as the construction of metering station at Esiama and another line to the northern part of the region.
Ten companies, led by Sinopec of China, took part in the project, which spans eight major districts in Ghana's Western region – Ellembelle, Jomoro, Nzema East, Ahanta West, Mpohor, Tarkwa Nsuaem, Prestea Huni Valley and Sekondi-Takoradi.
In this article