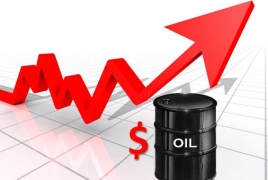 02 October 2015 – Crude prices rose on Friday as fighting in Syria intensified, but remained on course to end the week largely unchanged as a hurricane was seen as less likely to affect US oil facilities.
Hurricane Joaquin, which on Thursday had prompted fears of storm damage to US East Coast oil installations, was downgraded and is now seen as less likely to pose a major threat, the US National Hurricane Center said.
Still, US crude was 57 cents higher at $45.31 a barrel in early trade on Friday, after settling 35 cents lower in the previous session.
US gasoline futures first rallied then slipped on Thursday to end a volatile session flat at $1.3668 a gallon.
Global benchmark Brent was 48 cents higher at $48.17 a barrel. The contract had closed the previous session down 68 cents.
Traders said a political risk premium had re-entered oil markets over Syria, where Russia and the US are carrying on bombing campaigns.
The situation was complicated by the arrival of hundreds of Iranian troops in Syria to join a major ground offensive in support of government troops, a sign the civil war is turning still more regional and global in scope.
US crude production unexpectedly rose last week despite a drop in active drilling rigs.
"Fundamentals remain weak," analysts at ANZ said in a note to clients.
"We continue to see weaker fundamentals drive crude oil prices lower in the short term."
Asian stocks edged up on Friday and looked likely to end the week with tiny gains, although the outlook remained grim, while the dollar crept higher.
*Reuters