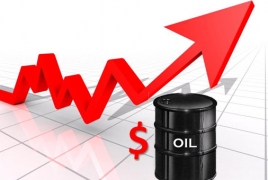 12 October 2015 – Oil prices rose in early Asian trading on Monday after US drillers cut oil rigs for six straight weeks, while traders awaited Chinese trade data to be published following the one-week National Holiday.
US drillers removed nine oil rigs in the week ended 9 October, bringing the total rig count down to 605, oil services company Baker Hughes Inc said late on Friday.
That total was the least since July 2010. Drillers had cut a total of 61 rigs over the prior five weeks.
Since hitting an all-time high of 1609 during this week a year ago, weekly rig count reductions have averaged 20.
"Another fall in the US oil rig count helped support WTI price (but) the focus will be on the release of China's trade data, which will indicate whether low prices have kept import demand high," ANZ said bank.
US West Texas Intermediate crude futures were trading at $49.79 per barrel in early trade, up 16 cents from their last settlement. Internationally traded Brent futures were up 11 cents at $52.76 a barrel.
Oil was also supported by a weaker US dollar, since it makes imports for countries using different currencies cheaper.
The US dollar hit three-week lows against the euro as minutes from the Federal Reserve's September policy meeting showed the Fed in no rush to raise interest rates.
Data from China in coming days is likely to point to further weakness in the world's second-largest economy, starting with import and export data to be published on Tuesday.
Some investors fear the economy is at risk of a hard landing which could jeopardise an increasingly fragile international outlook, though most analysts forecast a slow deceleration, predicting that a raft of earlier support measures will gradually kick in.
*Reuters