13 October 2015, Lagos – United States oil giant, ExxonMobil Corporation said crude oil production from the joint venture between the Nigerian National Petroleum Corporation (NNPC) and the international oil companies (IOCs) have declined by 47 per cent due to the inability of the federal government to provide its own funding through the NNPC.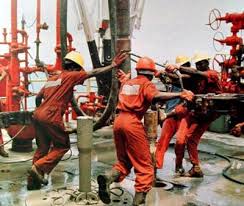 Speaking at the weekend in Lagos during a training workshop for journalists organised by PriceWaterhouseCoopers (PwC)​, the General Manager in charge of Venture Relations at ExxonMobil, Mr. Victor Olaiya stated that while crude oil production from the joint venture projects is declining, output from the Production Sharing Contracts (PSCs) is increasing.
He noted that the PSC projects are funded solely by the IOCs, which take all the risks associated with the projects.
Olaiya also revealed that Nigeria does not have a budget on how much the NNPC would contribute to the joint venture in 2015, adding that by 2020, about one million barrels per day would be lost by the joint ventures because of inadequate funding.
He also disclosed that ExxonMobil had sourced $15 billion to implement joint venture projects in the last couple of years.
In his speech, the Chief Economist, PwC Nigeria, Dr. Andrew S. Nevin, said despite high oil revenues, large levels of public expenditure had opened up a fiscal deficit over the last few years, adding that this deficit is projected to continue.
"Despite this, outstanding government debt is low compared to countries within the region and those at similar levels of development. Of the $13 billion of outstanding public debt, the vast majority is denominated in domestic currency. However, a significant portion is due to be rolled over this year," he said.
He said the falling oil price had traditionally placed significant pressure on the Naira exchange rate band.
According to him, the Central Bank of Nigeria (CBN) has responded to the recent oil price decline by drawing down reserves and accepting greater exchange rate flexibility.
He however pointed out that the oil market expects a low oil price to persist through 2015.
On Nigeria's monetary policy, Nevin said the "Central Bank of Nigeria draws on its toolkit actively to balance external stability with domestic price stability: They have looked to actively manage inflation and constrain credit growth by raising and maintaining high interest rates and raising the Cash Reserve Ratio (CRR) – the proportion of deposit balances that banks are required to hold as cash reserves. The central bank has increased the CRR from one per cent in 2010 to 20 per cent in 2014".
"The oil sector accounts for 94 per cent of all export earnings, crowding-out other export sectors and in 2013 the United States was the biggest buyer of Nigerian oil, but as the shale oil boom continues to bolster domestic supply in the US, other export destinations grow in importance," he added.
Nevin added that while Nigeria's export sector is dominated by oil, imports tend to come from higher up the value-chain, including machinery, manufactured products and oil-based materials which require higher refinery levels than is available domestically.
He also noted that Nigeria's tax base is much lower than other economies at a similar level of development.
'It is also poorly diversified: 70 per cent of government revenue is dependent on the oil sector. The government also has a limited ability to increase revenues through raising taxes on oil companies. The majority of revenue is generated from production of state-owned enterprises, with only a third derived from taxes. Overall, only a limited portion of the oil revenues may filter through to support the real economy," he explained.